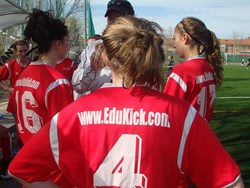 I spent a month at the EduKick Madrid Soccer Academy recently and found it an excellent place for me to grow as a player and a person. The training with EduKick and AD Colmenar was very beneficial and helped me improve all aspects of my play.
Madrid, Spain (PRWEB) November 20, 2013
EduKick International Football Academies (EIFA) announced this week the new EduKick Madrid "Girls Specific" Soccer & Education Boarding School Academy in Madrid, Spain.
The EduKick Madrid Soccer & Education Academy, based at the University of Madrid in the Spanish Capital, now actively invites competitive females soccer players from 13 to 24 years old, from anywhere in the world (EduKick provides Student Visa support) to attend their unique soccer and Spanish courses.
To prepare for the official launch of the Girl's Academy, EduKick Madrid recently solidified their football connections with females squads, both professional and amateur, in the greater Madrid area and throughout Spain, employed a full-time female monitor, and established an agreement of affiliation with the women's senior squad of third division professional Spanish side, A.D. Colmenar.
The EduKick Madrid Soccer Academy offers intense, daily Spanish style futbol training and match play over a prolonged period of time in Madrid, Spain; one of the world's epic centers of footballer development . EduKick Madrid has strong partnerships with many football clubs throughout Madrid, from grass roots to the professional level. Its main partnership is with A.D. Colmenar, which is a Spanish 3rd Division professional club federated under the umbrella of the Spanish and Madrid official Football Federations.
Upon initial evaluation by EduKick Madrid technical staff coaches those EduKick Madrid female players who have the minimum ability and experience will be invited to attend A.D. Colmenar trials and may be inserted into their female squads. These squads will train two or three evenings each week and play competitive matches in the Madrid Federation Leagues on the weekends.
All female participants will train daily, sometimes alongside EduKick Madrid male participants, under the guidance of EduKick Madrid Head Technical Coach, Sergio Leon Ballesteros. These sessions will be technical and tactical based to complement the local Spanish team training sessions that the girls will be attending as part of the course.
At the EduKick Madrid Residence participants receive three meals each day at the University Residence Cafeteria. EduKick Madrid employ a full-time adult female monitor to reside at the residence with the participating female players for 24/7 supervision, mentorship and general advice and assistance. EduKick Madrid have their offices located in the residence giving all staff the responsibility to supervise and mentor the student-athletes at the residence.
Participating female footballers will study "Spanish Language & Culture" following the world acclaimed communicative approach of International House Madrid. The aim of EduKick's 15 hours per week intensive Spanish course is to achieve a sound level of communicative ability in the language, with an emphasis on spoken Spanish and prepare students for the completion of the DELE (Spanish Language Proficiency) certificate exam, the most widely recognized official Spanish qualification in the world.
Female participants who are already fluent in Spanish or have at least a minimum of 200 hours of exposure to the Spanish language have the option to attend the EduKick Madrid affiliate High School "Rosa Chacel" where they will follow the Spanish Bachillerato educational curriculum or the International Baccalaureate program.
The EduKick Madrid residence features a "live-in" dedicated female monitor, private or double rooms with private showers and kitchenettes for all participating girls, study areas and classrooms are complete with Wi-Fi access for those participants who choose to continue their studies via long distance or online. EduKick provides an academic coordinator onsite to supervise students during daily study periods.
Elyse Galan, a high-level 17 year old female player from Quebec, Canada is returning to the EduKick Madrid Football Academy for a second visit, this time for the EduKick "Half Year" Spanish and Football Course, which is five months in duration.
Said Galan, "I spent a month at the EduKick Madrid Soccer Academy recently and found it an excellent place for me to grow as a player and a person. The training with EduKick and AD Colmenar was very beneficial and helped me improve all aspects of my play. I really enjoyed my experience and I am looking forward to returning for the half year program in January. I cannot wait!"
EduKick Madrid has trained several female players over the last decade they have been in operation, including Marielle Benitez, Captain of the Philippine Women's National Team.
EduKick President, Joey Bilotta said, "Marielle was the first big name of female players to train at EduKick Madrid and since then we have had several other quality female footballers pass through our academy. But now we are dedicating a specialized curriculum for female players to come to Spain and stay long term to learn Spanish and pursue their football dreams in home of the world champions."
Registration is now open for female footballers worldwide to begin in January 2014 for the EduKick "Half-Year" Course or September 2014 for the "Academic-Year" Course. Interested parties please contact EduKick direct at the contact information provided in this release.
EduKick International Football Academies (EIFA) offers international football and education academies for competitive soccer players (both male and female) worldwide in England, Spain, Italy, France, Brazil, Mexico, Canada and the USA.