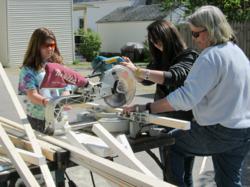 "... when they realize what they've done, they glow with pride."
Exeter, NH (PRWEB) July 18, 2012
Girls build Adirondack chairs! For a second year, girls at New Outlook Teen Center learned how to use power tools to build furniture. It's an incredible learning experience for the girls to see what they can build with their own hands, unusual in today's world dominated by electronics.
Elaine Hamel, executive director of Girls at Work, has led the program for 2 years years and shared some of the girls reactions "… awesome and powerful". The girls start the day hesitant as we introduce them to palm sanders, power drills and more. It's gratifying to watch them work through problems and when they realize what they've done, they glow with pride."
Building Furniture, Creating Community
Girls At Work partnered with the New Outlook Teen Center to participate in a community project. Karen Prior, a New Outlook Teen Center board member, created the program last year which includes participation by local artists, local businesses and the community at large. Here's the process, step-by-step:.
Step 1: Girls at Work's furniture building workshop, brings the tools, a proven workshop and construction leadership, to girls programs throughout New England.
Step 2: New Outlook's Girl's Adventure Program continually looks for local programming, connected with Girl's at Work.
Step 3: New Outlook staff and volunteers find sponsors, like Exeter Lumber donated wood for this project, artists and businesses to create the community program … and the girls build!
Step 4: Local artists take the Adirondack chairs and turn them into unique, one-of-a-kind pieces of furniture like last year's chairs.
Step 5: Local businesses host the chairs for the public to visit. Exeter businesses are online with photos of the chairs, so we invite you to stop and see everyone's work.
Step 6: The online auction site, BiddingForGood (auction live July 7-22, 2012) is hosting the auction, with great visibility for the artists and businesses.
Step 7: The girls get to see how powerful their efforts are when combined with others in the community, teaching teamwork and community building!
Sarah Illingworth, executive director of the New Outlook Teen Center is thrilled to see this model repeating itself. "It's unusual that we're able to combine great programming for our teens, with fund raising which is so critical with reductions in government funding. I'm grateful to have the support of so many NH community members. We're also grateful for today's technology, that helps more people see what we're doing."
Tina Gleisner, founder of the Online Community of Women Homeowners (HomeTips4Women.com), knows the importance of building these skills which are critical for all homeowners. "With single women representing more than 20% of first time home buyers, it is critical that women be comfortable handling basic home maintenance and repair tasks. That's why I support this program and many others like the kitchen remodeling project in 2005."
About Girls at Work
Elaine Hamel, founder and executive director of Girls at Work (http://www.girlswork.org), empowers girls and women throughout New England by teaching them woodworking to challenge their minds and lift their spirits. Traveling from their home location in Goffstown, NH, trained woodworking professionals bring the tools to the girls at after school programs and summer camps. Girls at Work teaches girls how to use power tools with an emphasis on equipment safety and environmental standards. They also share their appreciation for community support, such as materials donated by area businesses.
About New Outlook Teen Center
New Outlook (http://www.newoutlookteencenter.org) is an after-school and summer adventure program providing middle and high school youth with high-quality recreational, educational and prevention programming. New Outlook encourages youth to express themselves, transcend personal boundaries, learn the value of service to others, and develop individual assets that foster healthy and meaningful lives. New Outlook serves over 350 youth in the Greater Exeter Area.
About the Online Community of Women Home Owners
Tina Gleisner is the founder of the Online Community of Women Home Owners (http://www.HomeTips4Women.com). A homeowner for more than 30 years, she ran a handyman business for 8 years and now helps homeowners learn about their homes through articles, videos and interviews with home professionals who practice their trade every day in — real estate, building/remodeling, home maintenance, decorating and green energy. Busy homeowners can visit one website to research problems and projects. Advice covers planning, budgeting and implementation choices from do-it-yourself to finding the right home professional.