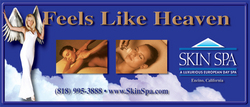 the Shirley Temple of our time once again.
Los Angeles, CA (PRWEB) January 29, 2009
Reality Royalty Jonathan Baker, Victoria Fuller, and reality baby Trease Baker from Amazing Race 14 fame open up their delectable Skin Spa (http://www.skinspa.com) in Encino, CA for a Girl's Next Door adventure airing on E! on February 1. As this GND season comes to an end, don't miss Holly, Bridget, Kendra (and their moms and grandmothers too) who go from the Playboy Mansion to the famous Skin Spa to pamper themselves with Jonathan, (who calls Skin Spa an adult playground for the rich and famous) his wife and pop artist / Playboy Playmate, Victoria Fuller, along with their daughter Trease. Live vicariously in the lap of luxury and laugh with some of the most beautiful women to grace reality television today. "We had such a blast spending time with our good friends Holly, Bridget, Kendra at the Spa, it was a magical environment and the perfect backdrop (with the exception of the Mansion that is) for The Girl's Next Door," said Jonathan Baker.
The girls immerse themselves as they soak in the spa including its dreamy Zen Sleep Room, Niagara Water Fall Room, and the 1,000 square foot outside spa deck, the only one of its kind in Los Angeles. Trease Baker, then one and half years old joins the fun (and steals the show) as she brings flowers for all of the girls. No stranger to television, Trease is the original Reality Baby with an impressive credit list, having worked for Disney Wonder Times and Baby Gap, as well as The Chicco Baby Line in Italy and has had a reoccurring guest role on The Girls Next Door since before birth. Holly Madison fills the proud parents in that Hugh Hefner has dubbed Trease, "the Shirley Temple of our time once again."
Jonathan Baker who is also a reality expert aficionado will be capturing all the excitement from the episode on a listening tour on Monday, February 2 at noon on his popular radio program, http://www.realityminute.com along with his co host Ara. Go behind the scenes with GND trivia, facts and get the insider scoop on the Reality Minute. Then turn to Baker for an insider perspective on your favorite reality obsessions and his good friends, Holly, Bridget, and Kendra and of course Hugh Hefner.
You can catch up with Jonathan, Victoria and Trease new shows at: http://www.jonathanbakerandvictoria fuller.com and don't miss Reality Minute every Monday at noon for the latest juiciest insider scoop with reality expert Jonathan Baker. For more information on Skin Spa, go to: http://www.skinspa.com
If you're looking for a true reality veteran and opinionated reality expert, Jonathan Baker is the ideal guest. Nobody knows more on the subject! He offers an insider perspective with everything you really want to know about your favorite reality shows including, tips, top picks, and colorful commentary on all things reality. Since he broke out in Amazing Race and 22 other reality shows, he's been living and covering reality from radio to print, to his popular website and blog, and can be seen on every major network kicking off their new seasons of reality programming. Contact: Elizabeth Johnson @ Dick Clark Productions, (Elizabeth(at)thinkhijinx.com) for booking.
###