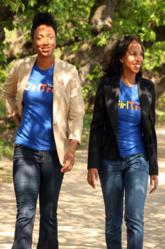 If Harriet Tubman could walk to freedom, we can walk for our health.
Washington, DC (PRWEB) February 21, 2013
GirlTrek, a 501(c)(3) nonprofit organization based in Washington, DC, will host its annual spring walking challenge to inspire Black women and girls to put their health first by simply walking. The 2013 "We Are Harriet" National Trek will kick off on Sunday, March 10, 2013 at 4:30 p.m. as thousands of women and girls throughout the country will walk in solidarity to commemorate 100 years since the passing of Harriet Tubman. The Trek will be a "moving tribute" with 100 minutes of walking by participants in their own neighborhoods and at their own pace. This event will mark the beginning of an 8-week commitment by participants to live healthier, more active lives by walking 30 minutes a day, 5 days per week. Last year, over 10,000 trekkers walked with GirlTrek.
Today, Black women and girls face an unprecedented health crisis. Black women are dying younger and at higher rates than any other group in America---living 3.5 years less than the national average. Studies show that 1 in 2 Black girls born in 2000 will likely get diabetes; 4 in 10 Black high school students are overweight, and; 4 out of 5 Black women are over a healthy body weight leading to deadly diseases like heart disease, stroke and diabetes. However, these diseases are preventable with an adjustment in diet and incorporating just 30 minutes of walking per day. "Today, Harriet Tubman would not even recognize us. If she could walk to freedom, we can walk for our health," said GirlTrek's co-founder, Morgan Dixon.
About GirlTrek
GirlTrek started with a routine telephone call between two friends, Vanessa Garrison and Morgan Dixon. The two women discussed the health challenges facing their families and communities. The conversation ranged from the lack of healthy food options in poor neighborhoods to the influence of hip hop videos on the psyche of teenage girls. The conversation took an unusual turn with the thought of "what would Harriet Tubman do?" That thought turned into a nonprofit organization and health movement with a mission to inspire and support Black women and girls to live their healthiest, most fulfilled lives.
Since its inception, the founders have represented GirlTrek and its mission as keynote speakers at national conferences and top universities. GirlTrek's innovation has been cited in peer-reviewed research and featured in national media stories. GirlTrek has led national walking campaigns, trained local volunteers to lead "walking revolutions" in their neighborhoods, and hosts a supportive social media network of 136,000 followers. Each week, GirlTrek's inspirational and informative content reaches 2.1 million readers.
Currently, GirlTrek has registered 13,000 women and girls across 39 states to walk on Sunday, March 10, 2013. GirlTrek encourages families, groups, and organizations to join the movement. There is no cost to register or to walk with GirlTrek. To register individually or as a group/organization visit http://www.GirlTrek.org. You may also visit GirlTrek's Facebook page at http://www.Facebook.com/HealthyBlackWomenandGirls.