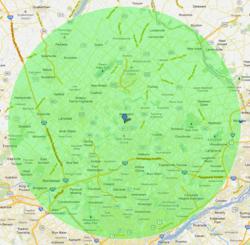 There are three keys to keeping Ash Trees healthy and safe: prepare, protect and plant.
Philadelphia, PA (PRWEB) May 22, 2012
Emerald Ash Borer Awareness Week is May 20-26. Giroud Tree and Lawn urges homeowners in the Philadelphia area to learn how to stop the spread of this deadly pest.
After killing over 15 million Ash trees across 15 states since 2002, Emerald Ash Borer has now been confirmed in the Philadelphia area. The Awareness Week is a nationwide effort to educate people about the pest and ways to slow its inevitable spread.
"While the arrival of Emerald Ash Borer in Philadelphia is a sad reality, homeowners can take action to control it," says Lou Giroud, ISA Certified Arborist and President of Giroud Tree and Lawn. "Prepare, protect and plant are the three keys to keeping Ash trees healthy and safe."
1. Prepare: All Ash trees located within 15 miles of Warrington Pa are at risk. The high risk zone includes most of Buck County, Montgomery County PA and Philadelphia County. Have Ash trees evaluated by an ISA Certified Arborist with expertise in Emerald Ash Borer control to recommend the best treatment protocol. Management options for an EAB-infested trees include preventative treatment or tree removal.
2. Protect: Ash Trees in the high risk zone will need protection from Emerald Ash Borer. Additionally, areas not yet infested can be protected by not moving firewood. A campaign, led by Stop the Beetle has produced a video asking people to pledge that they will not move firewood from their local area.
3. Plant: Diversify the landscape by planting a variety of native trees
Emerald Ash Borer is a tree pest not native to the U.S. Since being discovered in Michigan in 2002, it has been found in 15 states, including Pennsylvania. The insect attacks and kills ash trees when the larvae tunnel under the tree's bark, cutting off its food supply. EAB has been spread in firewood, nursery stock and possibly other ash materials.
Recognizing that Emerald Ash Borer is 100% fatal to Ash Trees, early detection and treatment is the only solution to save valuable trees. Homeowners in the high risk zone should not wait for these deadly pests to invade their Ash Trees. Learn more by contacting Giroud Tree and Lawn at 215-682-7704 or visiting the website at http://www.giroudtree.com.
About Giroud Tree and Lawn
Giroud has been dedicated to keeping trees and lawns healthy and customers happy since 1974. Serving Bucks, Montgomery and Philadelphia Counties, the company specializes in professional tree and lawn evaluation, tree and shrub care, insect and disease control, fertilizing, tree removal, stump removal and traditional and organic lawn programs to keep lawns healthy and green. Giroud Arborists are certified by the International Society of Arboriculture (ISA) and have the knowledge and experience required to properly diagnose, treat and maintain trees and lawn health. The company has been awarded the Angie's List Super Service Award® every year since 2005. The "Giroud Treework for Charity" program donates free tree care services to parks, historical sites and other non-profit organizations located in the Company's service area.  For more information, visit their website at http://www.giroudtree.com or call them at 215-682-7704.