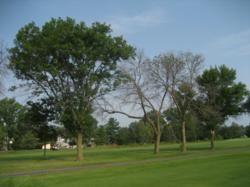 Early detection and treatment for Emerald Ash Borer is the key to saving Ash Trees.
Philadelphia, PA (PRWEB) May 08, 2013
Emerald Ash Borer is a killer pest that threaten all Ash trees in the Philadelphia area. Treatment is available and is proven to successfully control the pest and save trees, according to the Ash Alert and video provided by Giroud Tree and Lawn.
In the past 10 years, Emerald Ash Borer destroyed over 50 million Ash in 15 states. The fatal pest kills Ash Trees when the larvae tunnel beneath the bark stop food and water movement and starve the tree to death. Without Emerald Ash Borer Treatment, 100% of the Ash Trees infested with the borer will die within 3-5 years. A video by Giroud Tree and Lawn explains the dangers and how treatment can protect trees from Emerald Ash Borer
"Early detection is key to saving Ash Trees," says Lou Giroud, ISA Certified Arborist and President of Giroud Tree and Lawn, a tree service company. "Have an ISA Certified Arborist do a comprehensive health inspection for Emerald Ash Borer, consider each tree's value to the landscape and determine if treatment is feasible."
Property owners living in the high risk zones of Bucks County, Montgomery County PA and parts of Philadelphia need to take action and call a professional tree service. However, it's important to be aware that the qualifications of the tree service company and the quality of treatment can vary widely from inexperienced companies to certified professionals.
Here are some key points to look for in selecting the company to perform Emerald Ash Borer Treatment:
1. Qualifications: Use an ISA Certified Arborist with experience in identifying Ash Trees, evaluating health and determining the best treatment. Additionally, make sure the technician performing the treatment is a PA Licensed Applicator with specific training in Emerald Ash Borer injections.
2. Tree Evaluation: A professional tree service will not recommend treatment unless the Ash Tree meets minimum health standards. To be a good candidate, the Tree must have at least 50% of its crown, be relatively healthy and able to absorb the treatment. If treatment is not possible, tree removal may be recommended.
3. Treatment Protocol: Research shows that trunk injections kill the highest number of Emerald Ash Borer larvae and are most effective. Other forms of treatment such as soil injections or topical cover sprays are less effective but may be the only affordable option.
4. Pricing: Question pricing, especially for trunk injections. The chemical known as TREE-age, the most effective insecticide used for these treatments, is expensive. If the trunk injection is being done properly with the best insecticide at the right dose for the size of the tree then pricing should be comparable.
Reaching average heights of more than 80 feet tall and girths as much as 6 feet around, Ash Trees are a valuable part of many landscapes. Losing a tree of this size and stature will have a lasting impact on area homes, businesses and communities.
Ash Trees are often confused with other similar trees. If a homeowner or business is unsure whether they have Ash Trees, an ISA Certified Arborist from Giroud Tree and Lawn will do a free inspection. If Ash Trees are identified and good candidates for treatment, the Giroud Arborist will determine the best treatment protocol.
Recognizing that Emerald Ash Borer is 100% fatal to Ash Trees, early detection and treatment is the only solution to save valuable trees. Homeowners in the high risk zone should not wait for these deadly pests to invade. Learn more by contacting Giroud Tree and Lawn at 215-682-7704 or visiting: http://www.giroudtree.com.
About Giroud Tree and Lawn
Giroud has been dedicated to keeping trees and lawns healthy and customers happy since 1974. Serving Bucks, Montgomery and Philadelphia Counties, the company specializes in property inspections, tree and shrub care, insect and disease control, fertilizing, tree and stump removal and traditional and organic lawn programs to keep lawns healthy and green . Giroud Arborists are certified by the International Society of Arboriculture (ISA) and have the knowledge and experience required to properly diagnose, treat and maintain tree and lawn health. The company has been awarded the Angie's List Super Service Award® every year since 2005. The "Giroud Treework for Charity" program donates free tree care services to parks, historical sites and other non-profit organizations located in the Company's service area.
For more information, visit their website at http://www.giroudtree.com or call them at 215-682-7704.