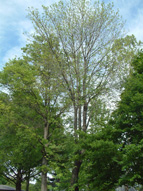 Early detection and treatment are key to saving trees suffering from insect or disease problems.
Philadelphia, PA (PRWEB) May 08, 2014
Spring is finally here and temperatures are rising! Unfortunately, outbreaks of tree insects and diseases are on the rise too. Many trees are facing formidable problems that can weaken or destroy tree health. According to Giroud Tree and Lawn, early detection and targeted treatment are among the keys to controlling insects and diseases on trees.
"As we roll into May, healthy deciduous plants should display a full crown of lush, green leaves," explains Lou Giroud, President of Giroud Tree and Lawn and ISA Certified Arborist. "Evergreens should have new buds and vibrant color. The picture is significantly different for trees with insect or disease problems."
Sick trees display clear warning signs. Homeowners should be alert for any of the top five symptoms:
1. Damaged Leaves: Chewed, yellowing or discolored leaves.
2. Late or Partial Leaf-Out: Tree leafs out later than others of the same type, has lack of new growth, dwarf leaves or only some sections of the tree leaf-out.
3. Decay: Mushrooms or shelf fungi growing out of the root system or trunk of a tree, cavity or peeling bark.
4. Insects: Signs of insect activity on the leaves, branches or trunk. Heavy hitters for Spring are Aphids, Leaf Miners, Lacebugs and Soft Scales.
5. Excessive deadwood: Dead branches can be a serious safety hazard to people and property.
Early detection and treatment are key to saving trees suffering from insect or disease problems. Homeowners concerned about tree health, should contact a tree service company with ISA Certified Arborists. The Arborist will inspect the trees, diagnose the problem and recommend the best course of action.
About Giroud Tree and Lawn
Giroud Tree and Lawn specializes in tree service, tree removal and lawn care programs that make customers love doing business with the company since 1974. Serving Bucks, Montgomery and Philadelphia Counties, the company offers professional tree and lawn evaluation, tree pruning, tree removal, insect and disease control, fertilizing, stump removal and traditional and 100% organic lawn programs to keep lawns healthy and green. Giroud Arborists are certified by the International Society of Arboriculture (ISA) and have the knowledge and experience required to diagnose, treat and maintain tree and lawn health. The company is accredited by the Better Business Bureau and has been awarded the Angie's List Super Service Award® every year since 2005. The "Giroud Treework for Charity" program donates free tree care services to parks, historical sites and other non-profit organizations located in the Company's service area. For more information, visit the company website at http://www.giroudtree.com or call 215-682-7704.