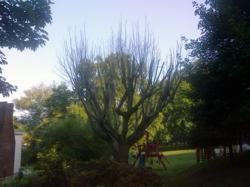 Besides creating an ugly tree, tree topping actually encourages rapid growth that is weak, dense and more prone to damage.
Philadelphia, PA (PRWEB) June 20, 2013
Tree topping hurts trees and is not an acceptable tree service practice. When a tree becomes too large for its space, many homeowners think the only solution is to cut off the top of the tree. Giroud Tree and Lawn provides alternative methods to reduce tree size and protect the safety and health of the tree.
"Besides creating an ugly tree," says Lou Giroud, ISA Certified Arborist and President of Giroud Tree and Lawn, "tree topping actually encourages rapid growth. As a result, the tree becomes larger in a very short time. Even worse, the branch growth is weak, dense and more prone to damage."
Topping trees compromises tree safety and health by:

Starvation: A tree stores food in its leaves. Topping starves the tree by cutting off 50-100% of the leaves from the crown.
Sunburn: The tree and surrounding plants are no longer protected from direct sun and scalding can occur.
Decay: Cuts made along a limb rather than at the branch collar create stubs with wounds that the tree may not be able to close.
Insects and Disease: Wounds from topping make a tree more vulnerable to insect and disease.
Short-lived Results: Topping actually encourages the tree to fill in three times as thick. The wind can't move easily through the dense growth making the tree more susceptible to storm damage.
According to the International Society of Arboriculture's TreesAreGood.com, tree topping is perhaps the most harmful tree pruning practice known. The harmful effects of tree topping are explained in greater detail at: Why Topping Hurts Trees
When a tree's height or spread must be reduced, the primary goals are to maintain the tree's natural form, health and safety. Branches should always be cut back to laterals that are at least one-third the diameter of the limb being removed. This approach maintains strength and ensures proper wound closure.
In cases where too large a portion of the tree must be removed, the best solution may be to remove the tree and replace it with a species that is more appropriate for the site.
"Before taking action, homeowners should have the tree inspected by an ISA Certified Arborist," advises Lou Giroud. Look for a tree service company that is a member of the International Society of Arboriculture. Never hire a company that advertises tree topping or uses tree climbing spikes to climb live trees. Additionally, ask for and check references. These steps ensure that the tree service company has the knowledge, skill and professionalism required to assess the situation and do the right thing for the tree and the homeowner.
About Giroud Tree and Lawn
Giroud Tree and Lawn specializes in tree service, tree removal and lawn care programs that make customers love doing business with the company since 1974. Serving Bucks, Montgomery and Philadelphia Counties, the company offers professional tree and lawn evaluation, tree pruning, tree removal, insect and disease control, fertilizing, stump removal and traditional and 100% organic lawn programs to keep lawns healthy and green. Giroud Arborists are certified by the International Society of Arboriculture (ISA) and have the knowledge and experience required to properly diagnose, treat and maintain trees and lawn health. The company has been awarded the Angie's List Super Service Award® every year since 2005. The "Giroud Treework for Charity" program donates free tree care services to parks, historical sites and other non-profit organizations located in the Company's service area. For more information, visit the company website at http://www.giroudtree.com or call 215-682-7704.