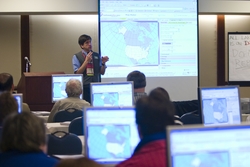 Many of us who are writing curriculum and training other teachers had our start at the 1999 ESRI teachers' institute
Redlands, California (PRWEB) December 19, 2008
ESRI is hosting the 2009 ESRI T3G Institute (Teachers Teaching Teachers GIS), June 14-19, 2009, at its company headquarters in Redlands, California. Teachers of grades 5-12, university instructors, and youth and community group leaders will work with ArcGIS software and data to improve their geographic information system (GIS) knowledge and technical skills. Ultimately, attendees will apply what they learn in their own classrooms or programs and show others in their field how to teach using GIS concepts.
The 2009 institute will include hands-on exercises; best practices discussions; and presentations about the latest geospatial trends in GIS, Web mapping, and GPS. The institute activities will be led by nationally known geospatial technology educators, and a limit of 30 participants will allow for individual assistance.
"There are not many opportunities like this," says Kathryn Keranen, who was an instructor at the first ESRI teachers' institute in 1999 and is teaching again at the 2009 event. "The institute gives teachers free training and software and an environment where they can collaborate with like-minded colleagues."
Keranen went on to train her fellow teachers in Fairfax County, Virginia, and she recently coauthored the ESRI Press book Making Spatial Decisions Using GIS, which won the Geography Excellence in Media award from the National Council of Geographic Education (NCGE). "Many of us who are writing curriculum and training other teachers had our start at the 1999 ESRI teachers' institute," explains Keranen.
Participants will leave the institute with a more proficient understanding of how to incorporate GIS into their teaching, find and use GIS-based lessons and public domain datasets, and train other educators on how to teach GIS. Following the institute, participants are expected to apply what they have learned by creating a GIS lesson to share on the Web; leading a hands-on GIS training event; and presenting at a conference the outcomes of their work such as GIS lessons, results of a class or group project, or a pedagogical approach to teaching youth or adults.
Geospatial technology helps create more effective solutions to spatial problems, which is fundamental to a wide variety of disciplines including geography, history, earth science, environmental studies, language arts, mathematics, and youth group educational environments. Educators from all disciplines who have experience teaching with GIS are encouraged to attend.
Additional information and an application for the institute are available at http://edcommunity.esri.com/t3g-institute . Applications are due by January 15, 2009, and acceptance will be announced in February 2009.
About ESRI
Since 1969, ESRI has been giving customers around the world the power to think and plan geographically. The market leader in GIS, ESRI software is used in more than 300,000 organizations worldwide including each of the 200 largest cities in the United States, most national governments, more than two-thirds of Fortune 500 companies, and more than 7,000 colleges and universities. ESRI applications, running on more than one million desktops and thousands of Web and enterprise servers, provide the backbone for the world's mapping and spatial analysis. ESRI is the only vendor that provides complete technical solutions for desktop, mobile, server, and Internet platforms. Visit us at http://www.esri.com.
ESRI, the ESRI globe logo, GIS by ESRI, ArcGIS, http://www.esri.com, and @esri.com are trademarks, registered trademarks, or service marks of ESRI in the United States, the European Community, or certain other jurisdictions. Other companies and products mentioned herein may be trademarks or registered trademarks of their respective trademark owners.
# # #