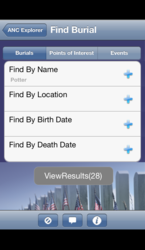 This application provides the public access to detailed information about burial sites, memorials, and special events at Arlington National Cemetery.
Birmingham, Alabama (PRWEB) November 13, 2012
Arlington National Cemetery recently launched Arlington National Cemetery (ANC) Explorer, a location technology application developed by Geographic Information Services, Inc. (GISi), based in Birmingham, Alabama.
After several competitive bid rounds, ANC selected GISi to develop ANC Explorer, a solution that uses cutting edge geospatial technology to provide pinpoint accuracy, data management, analysis, and visualization capabilities.
The application is a web and mobile system that combines imagery, maps, digitized records, photographs, and detailed information about each burial site and memorial at the famous national veteran's cemetery in Arlington, Virginia. This will help visitors locate graves of loved ones and provides increased operational efficiency for ANC staff.
Operationally, there are a myriad of roles to fulfill at ANC, from funeral planning to tree trimming, and it is important for staff to be familiar with what's taking place throughout the day so the utmost respect is delivered at all times. The operations team must have the means to view, reference, or add information to a single authoritative source, so that conflicts in data don't result in conflicts of events. This new solution interfaces with ANC business systems, so there is a central source of data and a relevant set of tools for each role at ANC, allowing efficient job execution with sustained data integrity.
In conjunction with the internal facing applications to increase operational efficiency, GISi designed a public facing website application—ANC Explorer. Available via common web browsers, smartphones, and kiosks located in the Visitor Center of ANC, this application provides the public access to detailed information about burial sites, memorials, and special events at Arlington National Cemetery.
Anyone can search burials in a number of ways, including first name, last name, date of birth or date of death to find the location of a loved one, and visitors are provided with in-depth information like internment date, branch of service, cemetery section, and grave number. To add to this, the Army's Third Infantry Regiment (The Old Guard) photographed both the front and back of every headstone, urn niche and grave marker so a picture is available to view or download.
ANC Explorer allows patrons to plan their visit online or interact with it while on premises. They have a customized view of the cemetery with the ability to zoom in and out, query sites, view notable gravesite locations, take part in historic tours, and locate memorials. While onsite, visitors can use the application via their smartphone to map a route from their current location to a burial site or memorial. Along the route, the application will highlight other points of interest and events of the day. For those without smartphones, the kiosks in the Visitor Center provide the same information with printed route guide maps and fact sheets.
"Having access to all this information provides two distinct advantages," says Ryan Heitz, GISi Federal Program Manager for the Army. "First, it helps those in the cemetery really increase their understanding of the history and be more aware of the memorials around them." People can browse points of interest and learn more about notable graves and memorials. Providing information that might otherwise be overlooked enriches an onsite visit and results in a more memorable experience.
"Second, if you're not able to visit the cemetery in person, you can actually experience some of it through the website," says Heitz. There is everything from a Coast Guard memorial to the Space Shuttle Columbia memorial. It increases the ability of the public to explore the cemetery whether they are able to physically visit or not.
The last piece of functionality ANC Explorer adds is the ability for the public to submit feedback. Whether it is information about a particular grave, reports of a positive experience or something that could be improved, users can provide feedback and ideas, even from the mobile app while walking through the cemetery.
This project utilized Geographic information systems (GIS) software from Esri to power the map services on the ANC Explorer website, the maps at kiosks in the cemetery, and mobile applications used by visitors. Esri technology also supports routing on mobile devices that the ANC staff uses for their work. The software used includes ArcGIS for Server and Esri's software development kits for Android and IOS.
ANC Explorer was recently honored with a GCN Award for IT Achievement.
About GISi
GISi is an award-winning GIS professional services firm located in Birmingham, Ala., with offices throughout the United States. GISi has a passion for delivering customer driven location technology solutions to federal, state and local governments, and commercial organizations.