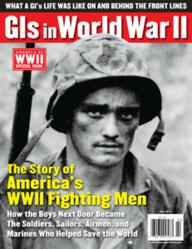 It's plain to see how extraordinary these 'ordinary' guys really were.
Harrisburg, PA (PRWEB) September 28, 2012
They helped bring down Adolf Hitler's Third Reich. They defeated the Empire of Japan. They sailed, flew, and hiked across the globe, braving death to save the world. Who were they? As the new publication GIs IN WORLD WAR II points out, the amazing American servicemen of World War II were simply "the boys next door."
How those boys became fighting men—and what their life was like in camp and at the fighting front—is the theme of GIs IN WORLD WAR II. The newly released 100-page limited edition from the publishers of AMERICA IN WWII magazine tells the story of America's soldiers, sailors, airmen, marines, and coastguardsmen in the Second World War.
GIs IN WORLD WAR II is "about every enlisted man who earned the right to wear the encircled eagle that symbolized honorable WWII service, the so-called 'Ruptured Duck,'" said AMERICA IN WWII publisher Jim Kushlan. "The term GI probably derives from 'government issue,'" he explained, which came to signify "an army enlisted man, but also, more broadly, an enlisted man of any US armed service, as in the name of the postwar era's GI Bill, which was for all veterans."
Kushlan, whose own father was a WWII US Army Air Forces veteran, is the first to admit that a 100-page treatment cannot completely cover the enlisted men's experience in World War II. Nevertheless, he says, "this is a very well-rounded snapshot of the boys of 1941 to 1945." GIs IN WORLD WAR II includes chapters on entering the service, adjusting to military life, fighting (on land, on sea, and in the air), and coming home. Wartime photographs, artifacts, ads, posters, insignia, postcards, and more—190 in all—join with articles and first-person accounts "to help transport readers back there to the 1940s with the guys," says Kushlan.
One feature in GIs IN WORLD WAR II, titled "(extra)ordinary men," profiles 20 WWII enlisted men from across the United States, and from various service branches and theaters of the war. The men represent the racial and ethnic spectrum of America's GIs in the Second World War, and the wide variety of war experiences servicemen underwent. The profiles include a heroic coastguardsman, a musical POW, a fighting Seabee, a terrified paratrooper, frontline soldiers and marines, bomber crewmen, sailors, a war-dog handler, and more.
"World War II vets tend to recoil when you call them heroes," said Kushlan. "They all tell you they were just ordinary guys doing what they were supposed to do. But to the rest of us, it's plain to see how extraordinary these 'ordinary' guys really were. These 20 profiles help drive that home."
GIs IN WORLD WAR II is on sale directly from the publisher, at Barnes & Noble stores across the United States, and at select other bookstore newsstands. Digital versions for iPad and iPhone, Barnes & Noble's NOOK, Android devices, and PCs and Macs will be available next week.
GIs IN WORLD WAR II, AMERICA IN WWII, and AmericaInWWII.com are publications of 310 Publishing LLC of Harrisburg, Pennsylvania, a company committed to telling the human stories of history.