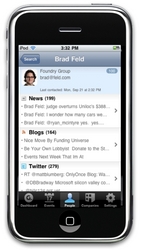 Gist now makes the most important information about their most important contacts available any time they need it.
Seattle, WA (PRWEB) October 13, 2009
Gist , an online service that helps people better manage their personal and professional relationships, today announced the availability of its iPhone application. Currently in public beta, the service automatically aggregates and prioritizes information about contacts and their companies delivering actionable insights in less time.
The iPhone application gives Gist users on-the-go access to information about their professional network. Users can get information about meeting attendees, share information as it happens, and drill down into detailed individual and company profiles all within an easy to navigate iPhone application. New functionality includes:

Optimized Dashboard - provides quick viewing of both traditional news sources as well as blogs and Twitter updates either by person or company.
Event View - delivers automatically created and updated profiles of meeting attendees in a single view plus provides a map of the meeting location.
Quick Actions - enable sharing of news, reaching out to a contact or even sending a one-click email to meeting participants that you are running late.
"Busy professionals spend a great deal of time working only from their mobile devices," said T.A. McCann, founder and CEO of Gist. "Gist now makes the most important information about their most important contacts available any time they need it."
The addition of the iPhone application increases the number of places users can experience Gist with support for Microsoft Outlook and Salesforce.com currently available. Gist constantly generates updates for individual and company profiles with the latest from social networks like Facebook and LinkedIn as well as Twitter, over 20 million blogs, and over 50,000 news sources bringing it all together and prioritizing it for quick consumption and action.
The Gist application for the iPhone or iPod Touch is currently available for free at http://www.itunes.com/appstore. To learn more about Gist or to sign up for the beta, please visit http://www.gist.com
About Gist, Inc.
Gist helps build stronger relationships by connecting the inbox to the web to provide business-critical information about the people and companies that matter most. Gist is located in Seattle, Washington and is funded by Foundry Group and Paul Allen's Vulcan Capital. For more information, go to http://www.gist.com.
For more information contact:
Robert Pease
Gist Marketing
206.327.0397
The names of actual companies and products mentioned herein may be the trademarks of their respective owners.
# # #