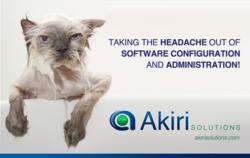 "The DevBox has literally shaved weeks off of our development schedule and saved us thousands of dollars."
Palo Alto, CA (PRWEB) June 02, 2011
Akiri Solutions, Inc. today announced the DevBox – an integrated solution that streamlines and accelerates the software development process. The DevBox is a web-based virtual appliance that provides all the tools necessary for implementing new software projects – all fully integrated with unified access control. Source code control is provided by shared Git repositories, which users create in just minutes.
The DevBox web-based bug and issue tracking is simple to use and eliminates the need for purchasing and setting up a separate tool. The automated backup functionality allows backups to be scheduled at anytime with a click of the mouse. The built-in wiki is created automatically, ensuring that important project knowledge can be easily captured. The point-and-click file sharing capability simplifies the painstaking process of adding or deleting users and managing permissions versus using ftp sites or shared file servers.
"The DevBox has literally shaved weeks off of our development schedule," said Amanda Rajchel, senior manager of technical programs at D2M, Inc. in Mountain View, California. "Using the DevBox allows us to efficiently manage a project from start to finish saving thousands of dollars in development costs," continued Rajchel.
"We are very excited about the release of our new product. The DevBox is a truly unique solution that delivers all the tools a software developer needs to get going – all integrated into one easy to use virtual appliance. Although we offer a hosted solution for customers who want or need it, we believe many companies will opt for deploying our virtual machine inside their corporate network where it will be completely under their control" said Matthew R. Laue, CEO of Akiri Solutions.
The DevBox is sold based on number of users; the entry-level price for up to 10 users is just $995.00. The hosted version for 10 users is $49.00 per month.
To see how the DevBox can significantly reduce development costs and project schedules download the 30-day free trial at http://www.akirisolutions.com.
In order to celebrate the launch of their new product, Akiri is offering (for a limited time only) a 30% discount to all new users. Go to http://www.akirisolutions.com/static/offer.html to learn more.
About Akiri Solutions
Akiri Solutions, Inc. was founded in 2010 and is headquartered in Palo Alto, California. Akiri's mission is to develop and deliver innovative products and services that streamline the design, collaboration and administration of the software development process. For more information call 650.485.3638 or visit http://www.akirisolutions.com.
###