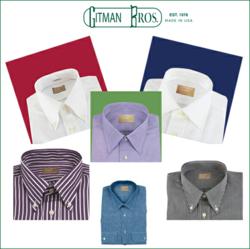 Since our factory has been exclusively in the US for generations
(PRWEB) May 03, 2011
(PRWEB) May 3, 2011 -- John Minahan, President of Gitman Bros., announced the brand new stock program available now on http://www.Gitman.com. The program theme is "The One Hundred" shirts to enhance every man's wardrobe. Included are many new items and categories:
A. Tailored fit dress shirt, a new trimmer fit for Gitman, which includes three new white dress shirts.
1. Gitman's 100's pinpoint in an easy to wear modified spread collar. (Sku # 118 FTRM 10)
2. Gitman's new 80 2ply with 2% lycra. "Stretch Pinpoint" is a supremely comfortable cloth and fit that moves with you when you move and allows a tailored fit to be comfortable. (Sku # 200 BSTR 10)
3. A beautiful zephyr Oxford cloth, with our new 2 ½'' button-down, which has been washed for supreme comfort and softer appearance. (Sku # 103 HJTW 10)
B. A brand new collar construction, called "Sartorial Dress" with a firmer, slightly higher stance, creating a dressier appearance in the collar area. This new product is available in 14 brand new dress shirts including our ultimate white shirt, a 160's 2 ply giza cotton spread collar, French cuff shirt (Sku # 157 EWRF 10), and many more dress shirts in a variety of colors.
Minahan commented on the large selection of sport shirt styles from our Classic Gingham Check (Sku # 722 BSU2) to a new "tailored fit" washed and emerized cream based Gingham (Sku # 723 GB01), along with a couple of throwbacks, the original "Dressy Chambray" complete with white double track stitch (215 BDTS) and the Linen Chambray Workshirt (603 LWS) with 2 patch and flap pockets, straight from the Gitman model archive.
Along with the dress shirt collection, Gitman Bros. enhanced and improved their e-commerce website. Users can easily purchase products through the website and become a registered user for quick shopping on future purchases. The enhancements include less clicks to checkout, newsletter sign up for special offers, an open feel that highlights the dress shirts, wish list search, a dress shirt clearance, and as always, safe and secure transactions. Besides being able to easily search and purchase men's dress shirts, visitors can also visit the Customized Dress Shirt section where they will be able to customize a dress shirt by choosing colors, patterns, fabric, size, fit, cuff, collar and contrast. All this can be done right on the official Gitman website, just like a personal tailor would do.
At Gitman, craftsmanship and technology - a perfect mix of the old and the new - go into each and every shirt. "Since our factory has been exclusively in the US for generations," Minahan said, "our historic archive and expertise to do authentic American shirting is without equal. We literally pull out old hard paper hand cut patterns and bring the essence of the product back 'in living color!'" At Gitman, shirts are proudly made in the USA.
# # #