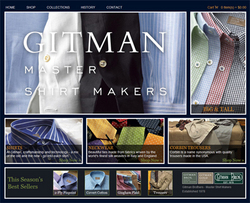 Gitman Master Shirt Makers represents a proud American Heritage of fine shirt making. Now Gitman.com expresses that heritage for our online Customers.
New York, NY (PRWEB) September 15, 2009
Gitman Brothers USA, maker of highest quality woven dress and sport shirts, is proud to announce the opening of its first retail website. This site will offer beautiful Gitman dress and sport shirts, Gitman neckwear, as well as Corbin trousers, with many new products to follow.
President of Gitman John Minahan said, "Gitman Shirt is a very unique American product, and the last of a breed. We wanted the new Gitman website to reflect the style and quality that goes into every Gitman dress and sport shirt.
Manufactured with light zephyr collar construction, double needle side seams, original American manufacturing technique in pocket making, collar making and setting, we find ourselves in the enviable position of having a product unique in all the world, which requires our own special marketing treatment. The demand for this shirt, like that of most authentic products still made in the USA, is worldwide. A special charm exists whenever authenticity is discovered, and the proud showing of this product is the purpose of the site."
Minahan continued, "We are very proud of our current distribution method, consisting of the finest stores in America and the world and in fact believe this selling site will enhance their ability to market and sell more of this American product. We will list our great stores, and do in fact recommend that when possible you buy from the great specialty store that can offer the best service available. The site will allow many who don't have access to a great specialty store to enjoy the experience of wearing a Gitman Brothers shirt."
The site will also include two other unique products that originate from other companies of IAG, the father company of Gitman and many other great American brands.
First, Gitman neckwear hand made in Gitman's own shop in North Carolina. - Dozens of beautiful classic neckwear styles, handmade of fine Italian and English silks, and available at once.
Also, our Corbin trousers made in our workshops in Chambersburg, PA as well as our shop in Santiago, Chile are available on the site. Corbin, the number one brand in classic American trousers, shows its versatility with beautiful casual styles as well.
As the site progresses, Gitman Master Shirt Makers will offer very special limited items for the lovers of these brands as well as one at a time special makes.
"Gitman Master Shirt Makers represents a proud American Heritage of fine shirt making. Now Gitman.com expresses that heritage for our online Customers."
-John Minahan, President of Gitman.
Gitman Master Shirt makers manufactures its entire production in Ashland, PA, its original home since 1948. The Lehigh Valley and Schuylkill, PA have been known for generations as the shirt making region of America, and Gitman has emerged as the last great American maker from this proud heritage.
Started in 1948 by Max Gitman and his two sons, Alfie and Shelley, Gitman worked for three decades as a high quality contract shop for the American designers of the day before organizing itself as a brand wholesaler in 1978.
It immediately became the shirt of choice in the great traditional men's haberdashers of the day, as well as the staple product for Saks Fifth Ave, Barneys, and Paul Stuart in New York where it continues to reside to this day.
Great American products, offered in the very best stores in the world, available on the new Gitman web store. Specializing in Dress Shirts, Big & Tall Dress Shirts, Neckwear, Trousers, and Accessories.
###