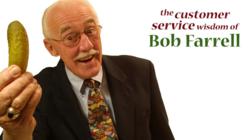 Dallas, TX (PRWEB) June 29, 2013
Give em the Pickle has become the focal point of customer satisfaction for Jack Cash Carlton's Training Solutions this week. This program is requested more than any other to assist in the heightening of awareness to clients and their needs. Jack Cash Carlton's Training Solutions utilizes Give em the Pickle to perform customer service training.
The best stories are those explaining the best and worst customer service that has ever occurred. This is why word of mouth is so powerful. It simultaneously gives feedback from a person with whom you have direct contact and it is usually completely unbiased. Both are strong trust indicators, which trumps any billboard or television spot that claims an organization is the best at whatever they say they do. Who to believe? A close family member or friend who says their company was treated awfully by that organization or a paid for advertisement claiming they are the greatest?
So now the only three choices a company has is to be remembered as something great, something awful or completely forgotten and not discussed at all. Companies have realized it's a lot cheaper to keep customers than create new ones so customer service training videos can play a huge role in creating opportunities. These programs give organizations ideas on how to retain great clients and treat them in way that is so powerful they tell everyone they know. This creates the positive word of mouth that keeps companies prospering for years to come.
A customer service training video like Give Them The Pickle takes a unique position on this challenging subject. The best way to spread great word of mouth under this philosophy is to find that one thing the customer needs that the organization can provide. In this training video Bob Farrell's idea stems from the need of a customer to have a pickle with their sandwich. The goal of any organization is to find that pickle. A pickle could be pulling out a chair for a client when they step into the company's office to discuss business. Another pickle could be providing cool air in the waiting room of the office for clients.
Jack Cash Carlton's Training Solutions discovered that clients generated more new clients and retained more clients using the Give em the Pickle training video. The program nurtures client's needs in such a way as to make each customer an advocate and advertiser for their organization. To view the free online preview of Give em the Pickle or know more about this company click on their site at Jack Cash Carlton's Training Solutions.