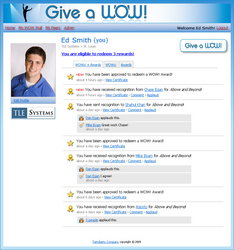 Give a WOW! is an affordable, easy-to-use, online program that enables team members to recognize the good work of their fellow employees
Grand Rapids, MI (PRWEB) July 22, 2009
The Terryberry Company, a global provider of employee reward and recognition programs, recently unveiled the Give a WOW! peer recognition program at the Society for Human Resource Management's (SHRM) Annual Conference. The conference was held in New Orleans from June 28-July 1, 2009.
Give a WOW! is a customized, online peer award application that provides organizations with an interactive, dedicated communications network for employees at all levels to engage in spontaneous, informal recognition among peers, which is often among the most coveted form of workplace recognition.
"Give a WOW! is an affordable, easy-to-use, online program that enables team members to recognize the good work of their fellow employees," explained Mike Byam, managing partner of the Terryberry Company and author of the book, The WOW! Workplace. "Peer-to-peer recognition is powerful and this makes it easy."
The peer recognition award program allows employees to nominate, send and/or receive recognition from any team member in the organization for a range of achievements including quality, innovation and performance. Employees can also "applaud" and comment on any recognition posting, much like the popular user-driven Facebook format.
According to Byam, Give a WOW! provides a fun, easy-to-use format that allows employees to post and comment on everything from job performance accomplishments to behaviors modeling a company's culture, beliefs and values. "One of the most common challenges in business today is that managers are too busy to effectively and consistently recognize their team members," explained Byam. "Give a WOW! reduces a company's reliance on managers as the sole recognition providers. Instead, Give a WOW! makes recognition peer-to-peer driven, encouraging team members at all levels of an organization to get involved in the recognition process. It's an affordable and time-saving management tool that can immediately foster an overall recognition culture within any organization."
Give a WOW! joins Terryberry's growing array of informal recognition products such as Recognize Me!, a tool that helps managers promote day-to-day employee recognition with more spontaneity and informality while complementing Terryberry's time-tested formal recognition programs.
About Terryberry
The Terryberry Company has helped organizations develop employee recognition programs to motivate and retain employees for more than 90 years. Terryberry has built an international reputation for its customized recognition and award programs which feature the highest quality employee recognition awards. Based in Grand Rapids, Mich., Terryberry develops and manages employee recognition programs for more than 25,000 organizations worldwide.
###