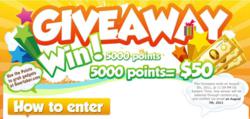 This is part of our continuing effort to attract people to our site and reward those who have already discovered us
(PRWEB) July 14, 2011
Geartaker.com, a one-stop online retailer that provides free-shipped top-class computer, communication and consumer electronics, etc, announced that it initiated a contest for a $50 Gift Certificate. The giveaway is open to anyone who enters between July 14th and August 5th. Winners will be chosen at random from all eligible entries.
There are ways to enter the giveaway for a chance to win the $50 Geartaker Gift Certificate. More Entries you take part in, more opportunities you will have to gain the gift certificate.
Here're some entries.
1. Sign up or Sign in Geartaker to enter this Giveaway.
2. Like Geartaker on Facebook.
3. Share this Giveaway or your favorite product of Geartaker on our Facebook Wall.
4. Follow me on Twitter.
5. Tweet about this Giveaway.
6. Write a Blog about this Giveaway, and link it back to this Giveaway Page.
7. Stumble this Giveaway.
8. Subscribe to Geartaker Newsletter.
9. Submit this Giveaway in any giveaway linky website.
Visit the official contest page to learn how easy it is to enter this giveaway.
"This is part of our continuing effort to attract people to our site and reward those who have already discovered us," stated Geartaker's President and CEO, Eric Smith. "Geartaker has been trying to provide customers all over the world with top-class products as well as satisfactory customer service. To be sure, our site can be the best way for your shopping, and we hope our promotions encourage more people to make faster and more intense reaction of the eye to attract customers."
The Giveaway ends on August 5th, 2011, at 11:59 PM EDT. Winners will be selected through random.org, and notified via email on August 7th, 2011. Good luck!
About Geataker.com
As a one-stop online retailer, Geartaker.com is specialized in offering free-shipped top-class computer, communication and consumer electronics, etc, at incredible prices with excellent customer service.
Geartaker.com offers a quick-and-easy online shopping process. Our customer service representatives can also help you with shopping and make your experience on Geartaker.com more pleasant. In addition, your personal information is securely protected on Geartaker.com. Whoever you are, and wherever you are, you are sure to enjoy shopping on Geartaker.com.
###