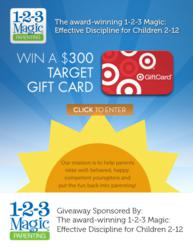 Chicago, IL (PRWEB) June 12, 2013
This June, ParentMagic Inc hopes to put some extra summer spending money in the pocket of one lucky family by giving away a $300 Target gift card. The giveaway is the latest in a series of promotional giveaways ParentMagic has been doing in 2013.
The giveaway is open to everyone. Parents interested in entering can visit http://www.123magic.com/JuneGiveaway and pick one of the many entry options. The goal of the giveaway is to increase communication with parents who are learning healthy ways to discipline their children through social media.
ParentMagic already enjoys a large following on Facebook with 35k fans, but is trying to grow their Twitter followers. Following ParentMagic on Twitter will earn the participant 3 entries toward the gift card.
Visit http://www.123magic.com for more information. 1-2-3 Magic Parenting and other best selling titles are available wherever books are sold and from the 123magic.com web store.
About ParentMagic Inc. and Dr. Thomas Phelan
1-2-3 Magic is America's #1 child discipline program. Now in its 4th edition, 1-2-3 Magic has helped millions of families stop unwanted behaviors and create competent healthy children. Dr. Thomas Phelan is a registered clinical psychologist in the Chicago suburbs. He has also served on the board of directors for both ADDA and CHADD, two national organizations for the parents of children with ADD. Dr. Phelan was inducted into the CHADD Hall of Fame in 1997.