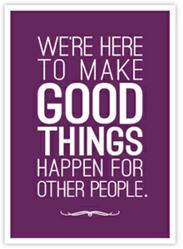 How much better would our days here be if all of us were focused on making good things happen for other people? Sam Parker
Richmond, VA (PRWEB) March 13, 2012
GiveMore.com, a company creating no-fluff messages and content to help kick off and support meetings, announced the debut of their new 'We're Here To Make Good Things Happen For Other People' poster and reminder card line. The products were inspired by the Declaration of Contribution, an online campaign launched by the company to encourage people to commit to making good things happen for other people.
"I wrote the Declaration of Contribution as a way to help people, and myself, hold ourselves accountable to making the world a better place," said Sam Parker, GiveMore.com co-founder. "How much better would our days here be if all of us were focused on making good things happen for other people?"
Parker wanted to create a reminder message for what he believes should be the ultimate mission statement. "It's easy to forget," he says. "Things get in the way – life's daily challenges, our ego, ourselves – and we let go of that primary mission. Our new posters and reminder cards can help keep the message top of mind."
The posters and reminder cards are available in five different colors and sold exclusively through the company's website at http://www.givemore.com. More than 4000 people have signed Parker's Declaration of Contribution since its launch at http://www.DeclarationofContribution.com on Thursday, February 23, 2012.
About GiveMore.com
GiveMore.com creates no-fluff messages and tools to help kick off or support weekly/monthly/annual meetings, goals, projects and events.
Their titles include co-founder Sam Parker's two bestselling books – 212 The Extra Degree® and Smile & Move®. Both messages have caught on at hundreds of top U.S. companies as a way to encourage extra effort, care, and accountability. Other titles they're behind are Sam's Love Your People®, Cross The Line™, and SalesTough™.
The company was co-founded by Sam Parker and Jim Gould in 1998 and is located in Richmond, Virginia.
You can email Sam directly at Sparker(at)GiveMore(dot)com. If you're slightly more daring, you can call him at (804) 762-4500 ext. 303.