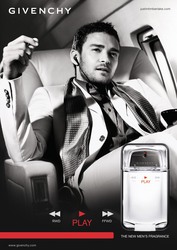 Sydney, Australia (PRWEB) August 20, 2009
The launch of 'Givenchy Insider' is to coincide with the Australian launch of the latest Givenchy men's fragrance PLAY, which is represented by Justin Timberlake, the most talented, multi-faceted artist of the moment, whose modern elegance resonates perfectly with the Givenchy style.
'Givenchy Insider' will give Australian Givenchy followers an insight into fragrance, makeup and skincare launches and promotions.
This month, fans of 'Givenchy Insider' will be able to access information in regards to the lead up of the official launch of PLAY on 24 August. An outdoor sampling campaign will begin on Thursday 20 August, in both Sydney and Melbourne, where GIVENCHY PLAY stretch hummers will roam the CBD, handing out over 40,000 samples and 5,000 invitations in 3 days, bringing GIVENCHY PLAY to life.
Sydney Fans will be invited to join paparazzi, dancers and DJs in stores to discover this new fragrance on 24 August. In Sydney, launch activities will start at 11am in the David Jones Men's Store in Market Street Ground Floor and proceed thereafter to Myer Sydney City via Pitt Street Mall for the official unveil at 12 noon. Free entertainment will also be provided in Sydney Central Plaza at lunchtime. Melbourne Fans will be invited to a similar event for the official unveil also on 24 August in Myer Melbourne Lonsdale Street at 12 noon.
At these launch events, attendees have the chance to win 1 of 50 Limited Edition 50ml EDT PLAY packs that will be given away.
For those who are not able to attend, video clips will be posted on Givenchy Insider to view the excitement of the launch.
PLAY will be available in David Jones, Myer, and authorised retail outlets on 24 August 2009.
This Givenchy fragrance, along with many others, such as Very Irresistible Givenchy, Ange Ou Demon, L'Interdit, Pi and Givenchy Gentleman will be available to purchase online at http://www.givenchy.com.au from Monday 7 September 2009.
Contact:
Natalie Galati - Marketing Manager
Givenchy Perfumes and Cosmetics
+612 9695 4803
# # #