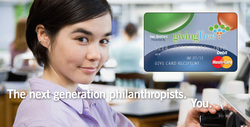 With the GiveCard, you can teach your kids about giving back to a worthy cause, or support your alma mater. By giving or receiving this card, everyone can be a philanthropist
Nashville, TN (PRWEB) October 10, 2007
Giving Tree, LLC GivingTreeLife.com announced today the launch of its business and website. The privately held Nashville, TN-based company is a for-profit social enterprise in the stored-value card market. The company will offer its first product, the Giving Tree GiveCard, online by November 1, 2007, primed for the Holiday Season. The GiveCard, a prepaid MasterCard gift card, is targeted to socially conscious consumers as "the gift card that gives back"™.
"At Giving Tree, sharing is the foundation of our business model. By sharing a small amount of your gift, you can improve society, help the environment, change a life," said Clayton "Nick" Nicholas, co-founder and president. The company is building a suite of socially conscious branded products, and a community for microphilanthropy™ that provides fun and easy ways for everyone to give back with meaning. Giving Tree will also offer Non-profit affinity programs and develop customized corporate programs to promote corporate social responsibility.
What makes the GiveCard different from other gift cards on the market is that 10% of the value of each card is donated to a charity of the recipient's choice, and the other 90% is used like cash anywhere MasterCard debit cards are accepted. When the gift card is activated on the Giving Tree website, the recipient of the card searches a database of over 1.5 million registered non-profits, such as The American Red Cross and The Humane Society, and chooses which charity gets the donation. The purchaser of the GiveCard actually gives two valuable gifts in one; a cash based gift card and a donation to a charity of choice.
Giving Tree provides a unique alternative to traditional gift cards that has social value and brings philanthropy to the masses. "With the GiveCard, you can teach your kids about giving back to a worthy cause, or support your alma mater. By giving or receiving this card, everyone can be a philanthropist," said Jeff Jacobs, co-founder and EVP of Giving Tree. Go to the Giving Tree website to view a GiveCard demo and see some unique ways to use "the gift card that gives back".
CONTACT: Giving Tree, LLC
Michelle Nicholas, 615-595-6058
About MetaBank
MetaBank is a federally-chartered savings bank headquartered in Storm Lake, Iowa. Meta Financial Group, Inc.® is the bank holding company for MetaBank, MetaBank West Central, Meta Payment Systems®, and Meta Trust Company®. The Meta Payment Systems division of MetaBank based in Sioux Falls, South Dakota, serves banks, processors, and third party marketers by providing prepaid cards, credit cards, ACH origination, merchant acquiring, ATM sponsorship, and money transfer. Meta Financial Group is traded on the NASDAQ - Global Market: CASH. For more information call 605.275.8052 or visit http://www.metacash.com.
The Giving Tree GiveCard is issued by MetaBank pursuant to license by MasterCard International Incorporated.
###