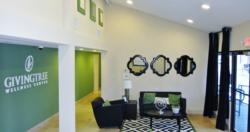 Phoenix, Arizona (PRWEB) May 14, 2013
The Giving Tree Wellness Center is a newly opened not-for-profit medical marijuana dispensary and alternative therapy center, it is located in North Phoenix, just south of the Deer Valley airport. The Giving Tree is the only state-licensed dispensary located in North Phoenix and the only one with full time in-house medical doctor.
The Giving Tree Wellness Center owners/ operators are two local women with a passion for alternative medical therapies. One of the owners is an actively practicing Emergency Medicine physician, she is the medical director of the dispensary and is present at the dispensary during business hours to assist patients. "Our goal is to take care of patients providing the highest quality medical marijuana and an inviting atmosphere while giving back to the community and making Arizona Proud", says one of the owners.
The Giving tree was designed to have the ambiance and appearance of a stylish, high-end spa. Their staff is friendly, knowledgeable and are trained and encouraged to spend quality time with the patients to ensure excellent service. Assistance is readily available to help patients chose the right medical marijuana strains for their qualifying condition
The Giving Tree is authorized to cultivate by the state and will be offering their own cultivated medicine to ensure quality and consistency. All medicine is lab tested by a third party lab and the results are available to all patients. The menu changes and is available on the website at http://www.givingtreeaz.com.
The Giving Tree's unique whole body approach will be offering a variety of alternative therapies which will include acupuncture, acupressure, massage therapy and more. The Wellness Center will also host free support groups, seminars, and yoga and nutrition classes.
The Giving Tree Wellness Center is open Monday through Saturday from 12pm to 7pm and is conveniently located off the 101 at 21617 N 9th Avenue, Phoenix, 85027.
The Giving Tree will be opening a second location this summer at 938 E Juanita Avenue in Mesa.