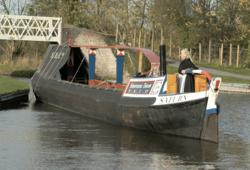 (PRWEB UK) 4 April 2012
Horse drawn, Fly-boats were the express craft of the waterways. Running non-stop, they delivered important and perishable goods around the clock throughout the waterway network.
Worked by four man crews and changing horses on the move, they ran to strict timetables through all weathers, except the thickest of ice, and they had priority over most other traffic. Shroppie fly men were considered to be the elite of boatsmen. They developed the combination of boat, horse and men into the ultimate of precision teamwork.
The Shroppie Fly-boats had a unique combination of fine lines, light weight, fast performance and great strength and were the ultimate development of the art of wooden narrowboat construction.
Saturn was a 'cheese fly' built primarily for the fast carriage of cheeses from Cheshire and Shropshire farms to major markets including Manchester.
Now well over 100 years old, Saturn has been fully restored to its former glory not only for posterity but to educate present and future generations about our waterways, narrowboats and horseboating.
As leading insurers for Narrowboats, Canal Cruisers, Barges and Houseboats, GJW Direct are proud to be official supporters and backers of Saturn.
Visit: saturnflyboat.org.uk