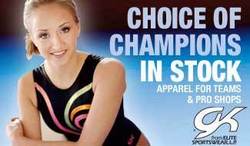 Reading, PA (PRWEB) September 30, 2009
GK Elite Sportswear and adidas gymnastics have been named official apparel suppliers at the 2009 Artistic Gymnastics World Championships in London England, October 13-18, 2009. As official apparel suppliers, GK and adidas will supply branded promotional apparel for the organizers of the event and offer GK and adidas gymnastics leotards and apparel for sale at the venue.
This year's World Gymnastic Championships will be held in London for the first time. By tradition, these World Championships give a clear idea about the transformation in the ranks of stars - which established gymnasts will stay and defend their positions for 2012 and which new names should be noted in advance of the London Games. London 2009 will be a benchmark event for the new Olympic cycle (2009 - 2012) leading to the Olympic Games, which London will host in 2012, with The O2 hosting both the Basketball and Gymnastic events.
The Championships will see outstanding performances from the best gymnasts in the world representing China, Japan, USA, Romania, Russia, Poland, France, PRK, Korea, Croatia, Spain, Germany, Great Britain, Ukraine and Uzbekistan, along with many other strong gymnastics nations.
GK has also partnered with Universal Sports, who will supply live web coverage of the prelims and championships, limited broadcast television coverage throughout the US & worldwide, and provide on-demand video replays on their website, http://www.universalsports.com. Universal Sports, formerly World Championship Sports Network (WCSN), a partnership between NBC Sports and InterMedia Partners, serves as the preeminent multiplatform destination for Olympic and lifestyle sports programming. The Universal Sports Television Network and UniversalSports.com deliver an immersive experience via exclusive live and on-demand coverage of world-class competitions, interaction with top athletes and in-depth access to sports news and information year round.
GK is the world's leading supplier of gymnastics leotards and apparel and is recognized around the world for superior variety, quality, fit and service. GK is proud to have been chosen by adidas to manufacture the US National Team Competitive leotards and apparel for USA Gymnastics since 2000 and is the sole producer of adidas brand gymnastics apparel worldwide. Based in Reading, Pennsylvania, Elite Sportswear, L.P., the company behind the GK brand, continues its commitment to American-made quality and continuous innovation in designs for Gymnastics, Cheerleading, Dance, and Drill Team apparel.
Click here for more information about adidas gymnastics wear
Click Here for more information about GK Elite Sportswear
Click Here for more information about the 2009 Artistic Gymnastics World Championships
###