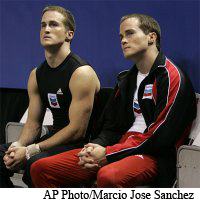 Morgan and I are excited to extend our relationship with GK/Elite into another Olympic year
Reading, PA (PRWEB) September 8, 2007
GK Elite Sportswear, the most recognized manufacturer of gymnastics leotards and apparel in the world, is proud to renew their athlete representation agreements with Morgan and Paul Hamm.
These agreements are designed to help Morgan and Paul in their comeback efforts. Morgan and Paul announced their intention to compete again earlier this year, after taking a break from the sport to complete their undergraduate studies at The Ohio State University. They have been in training since February 2007 to prepare for competition at the Visa Championships in August 2007.
"Morgan and I are excited to extend our relationship with GK/Elite into another Olympic year," explained Paul Hamm, 2004 Olympic All Around Champion. "We look forward to creating a new line of men's gymnastics apparel with GK and their creative team that can be worn to and in the gym."
"GK has been outfitting top athletes since 1989," said GK Elite President and founder Sallie Weaver. "Our relationship with the Hamm's goes back to 2003. In 2004, Morgan and Paul competed and won for The US National Team in the Olympics in Athens, Greece, wearing adidas® gymnastics apparel, made by GK. We are proud that they are continuing to compete in hopes of repeating their performances in the upcoming 2008 Olympics in Beijing."
For over 25 years GK has outfitted many of the World's top athletes in apparel featuring superior styling and quality. GK is proud to have been chosen by adidas® to manufacture the US National Team Competitive apparel for USA Gymnastics since 2000. Based in Reading, Pennsylvania, Elite Sportswear, L.P., the company behind the GK brand, continues its commitment to American-made quality and continuous innovation in designs for Gymnastics, Figure Skating, Cheerleading, Dance, and Track and Field apparel. For more information about GK Elite visit http://www.gk-elitesportswear.com or call Deb Clay at (610) 921-1469.
To see adidas gymnastics apparel, visit http://www.gk-elitesportswear.com/gkadidas.html
For more information about Morgan and Paul Hamm visit http://www.makingtheolympics.com or contact them through Sheryl Shade, c/o Stanton Shade, (212) 307-5128 or online at http://www.stantonshade.com/
For more information on USA Gymnastics visit http://www.usa-gymnastics.org
###