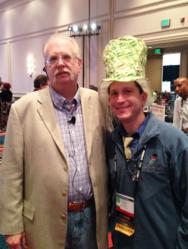 New York, New York (PRWEB) May 31, 2013
Seth Greene is often referred to as "America's Ultimate Marketing Magician," and because of his marketing expertise, was a finalist for the Marketer of the Year Award at this year's GKIC Super Conference. Seth is a sought after speaker, best selling author, and marketing consultant, and has been nationally featured on CBS Money Watch and FOX. He is the Founder of one of the fastest growing direct response marketing firms in the country. Seth Greene's book, "Financial Advisor Marketing Magic: How To Make New Customers Appear Like Magic" was #1 in its category on Amazon.com.
This year's GKIC Marketer of the Year competition was during the 2013 Super Conference in sunny Orlando, Florida. This is where the best and brightest members compete for the coveted title of Marketer of the Year. Contestants competed to show off their best GKIC Marketing campaigns and successes – and had the chance to win the coveted prize of Marketer of the Year and a chance to win "WINNERS WEEKEND" with Dan Kennedy and their Winning Entry featured in the No BS Marketing Letter.
Seth Greene has been profiled in Registered Rep Magazine, and written about in "..And The Clients Went Wild" and "The Connectors" by Maribeth Kuzmeski, as well as other books and trade publications. Seth's Nationally Recognized Financial Advisor Marketing Program has helped hundreds of financial advisors Double Their Production in 12 Months Guaranteed, and has been featured in The International Business Times, CBS Money Watch, The Boston Globe and The Los Angeles Daily News.
Seth Greene's success in marketing has been written about in 3 best selling business books, "…And The Clients Went Wild!: How Savvy Professionals Win All the Business They Want", "The Connectors: How the World's Most Successful Businesspeople Build Relationships and Win Clients For Life" and "Using Other People's Money to Get Rich". Seth has also been mentioned in the financial services industry's top trade journal (Registered Rep) and in legendary marketing guru Dan Kennedy's NO BS Info Marketing Newsletter.
The company Seth founded, Market Domination, LLC guarantees to double company sales in 12 months or give clients their money back.
Seth Greene
Market Domination
888-899-9214
UltimateMarketingMagician.com
"Seth Greene is Proud to Support The HOME Foundation "
About The HOME Foundation:
The Helping Others Means Everything, or The HOME Foundation, is a not-for-profit organization dedicated to helping our Family of Charities. Frankie Verdugo, President of The HOME Foundation, wants to help as many worthy charities as possible as they struggle during these tough economic times. Frankie Verdugo helps raise funds through luxury dream home raffles, home giveaways, prizes, and high profile celebrity events in Hollywood... "Our mission is to help charities reach their fundraising goals and to bring awareness to their praiseworthy causes."