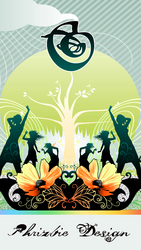 In the world of trends, custom promotional items like the iPhone skins and Facebook page promos are absolute musts
Kennebunkport, ME (Vocus) November 9, 2010
Phrizbie Design, a luxury online design boutique for women-owned businesses, will be giving away free Phrizbie Design iPhone Skins to the first 25 people that join their Facebook page on November 10. The skins, donated by Stickermule.com, will be customized with the Phrizbie Design logo.
Creating a promotion that combines the cell phone skin craze with the popularity of Facebook reflects Phrizbie Design's mission to infuse current trends with unique design. Recognizing the recent cupcake trend, the company added cupcake design items to their roster along with the growing trends of posh boutique illustrations, glamorous cosmetic packaging designs and luxury store hang tags. "In the world of trends, custom promotional items like the iPhone skins and Facebook page promos are absolute musts," explains Gillian R. Lepisto, president and lead designer at Phrizbie Design.
"This promotion accomplishes three things," she explains. "First, we help to introduce the fabulous, affordable company, Stickermule.com, to the world. Second, we grow our Facebook fan base and third, our brand logo will be distributed via one of the five most popular electronic accessory items available. We need to leverage trends and social networking just as much as our clients do. Although this promotion is for Phrizbie Design, our clients know we give them the same amount of dedication and originality we give our own business."
Exhaustive efforts to keep up with market trends within the fashion, beauty, spa and boutique industries has helped grow Mrs. Lepisto's design business into a recognizable expert for these niches. Having branched out from standard design items like logos, websites and business cards, Phrizbie Design is now also known for offering insights into popular trends in design, social networking and search engine optimization, much like a consultancy. "It was a natural evolution to begin linking design and consultancy services because our fashion, beauty and bakery clients were clearly in need of guidance across the board," says Mrs. Lepisto.
She believes that this promotion, interlinking an established trend, the number one social network and their own logo, will not only successfully promote Phrizbie Design, but also illustrate their dedication to guiding clients throughout a variety of marketing mediums.
###