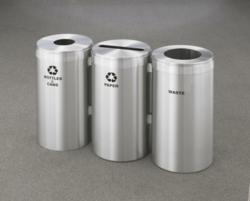 Glaro Inc. RecyclePro recycling receptacles are specially designed with universal connectors to easily customize the configuration you desire. Receptacles of different diameters and capacities, and for differing purposes, can be easily joined.
Hauppauge, NY (PRWEB) February 28, 2013
Glaro Incorporated, the nation's leading manufacturer of metal recycling receptacles announces a new way for facility managers to create their own RecyclePro recycling stations without hiring a designer or consultant. According to executives, while it is common to order three or more recycling receptacles of the same diameter (for example 15") and connect them, customers can now join various Glaro recycling receptacle sizes together to create their own unique recycling station. RecyclePro recycling stations encourage use, insure a neat organized appearance, and make floor maintenance easier.
The key to this innovation is the Glaro aluminum connector bracket. "The result of using Glaro Inc. connector brackets is that customers can form any configuration that they desire," shared Executive Vice President Robert Betensky. He added, "This flexibility is possible because Glaro Inc. connector brackets are universal for Glaro receptacles, allowing mixed sizes of receptacles to be easily connected. The customer may also specify the order in which the receptacles are to be arranged. Depending on the location, the size of each recycling receptacle can be selected to meet the volume of each recycling stream. For example, if experience shows that there is little need for a receptacle for paper, choose a smaller model. If near vending machines, for example, where the need to handle bottles and cans is greater, one may choose a larger receptacle. In addition, the color of each receptacle may match or be different. A choice of 31 finishes is available."
When asked where the concept for Glaro's connector brackets originated, Mr. Betensky shared, "We have always listened to our customers and developed practical products based on current market needs. In this case, the market asked for a way to customize their own recycling receptacle stations using any of the standard Glaro diameter receptacles which include 12", 15", and 20" diameters. In response we designed attractive, inexpensive, matching connectors."
According to the company, all connected RecyclePro recycling stations are easy to order, easy to assemble, and easy to maintain. Recycling stations ship within two to three days as part of Glaro's company-wide Quick Ship program.
Glaro Inc. offers the following suggestions for aesthetic layout when considering building recycling stations:
First: It is good to have an understanding of the facility's recycling needs i.e. plastic, paper, bottles, bottles and cans, and choose the types of recycling receptacles desired. You may also select the wording to be silk screened and permanently baked onto your units.
Second: Identify the anticipated capacity, i.e. small, medium or large (often a larger receptacle is used for "waste"), you need for each waste stream and decide how many units you need to connect. Connected stations can be formed with a combination of 12" 15" and 20" diameter receptacles. There is no limit to the number of receptacles that may be connected.
Third: Decide on a visual layout, i.e. the configuration of how you would like to have the receptacles connected and in what order from left to right. Try to keep similar size units together and/or try to arrange them in a symmetrical and attractive layout. A few popular layouts (in diameters) are:
20-15-15-20, or 15-20-15, or 12-15-20-15-12 .
Glaro Inc. customer service representatives will help place the receptacles into a visually attractive sequence to ensure that customers are selecting the right number and capacity for their facility. Mr. Betensky added, "Our customer service staff is one of the best in the industry. They really care about each customer and every project." Once the layout is finalized Glaro's recycling department will drill the holes to perfectly line up and accommodate the connectors for a quick and easy assembly. Each receptacle will have an upper and lower connector for durability.
You can learn more about Glaro's modular recycling stations on the manufacturer's blog on the following link: http://glaro.biz/2013/01/28/how-to-create-recycling-stations-using-connected-cans-glaro-recyclepro-recycling-receptacles-faq/.
Glaro Inc. can be reached at 1-888-234-1050 or info(at)glaro(dot)com.
About Glaro Incorporated:
Glaro Inc. (glaro.com) is a leading USA manufacturer of commercial and consumer aluminum and steel products sold directly to distributors/dealers for almost 70 years. All products ship in one to three days. Glaro Inc. products are the result of a focus on thoughtful innovation and design. Product lines include bellman carts, platform trucks, waste receptacles, recycling receptacles, smokers' posts and receptacles, crowd control posts and systems, safety barriers, signs, sign frames, directories, menu display stands, coat hanging equipment, umbrella stands, wet umbrella bag holders, planters, and key drop boxes. A diverse selection of models in 31 finishes is produced in the Hauppauge, New York plant by skilled Glaro Inc. craftsmen. The company is known for its quality merchandise and its ability to consistently quick ship all products. The customer service department provides unusually prompt personal service and is sensitive to the needs of dealers and distributors.