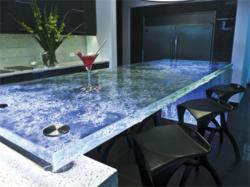 Great for open plans, glass side panels leaves the kitchen open and uncluttered.
(PRWEB) April 30, 2013
ThinkGlass leads the way in countertop innovation, this time with their spectacular glass side panels. Great for open plans, this streamlined look leaves the kitchen open and uncluttered. The glass is beautifully textured and scatters the light in a continuous flow adding drama and interest...something granite countertops can't do!
The transparency of glass countertops and their continuous side panels illuminated by LED lights literally lights up any kitchen with sophisticated style. ThinkGlass offers a variety of LED color options including true white and cold white as well as red, blue, green, amber, fuschia and cyan. For the ultimate in versatility, install a remote-controlled RGB device, which allows the possibility of hundreds of different colors as well as special effects, like flashing or fading lights.
ThinkGlass countertops are made from recyclable glass, and each countertop is unique, with a huge selection of molded textures and hand-painted colors. Customers can personalize their design by selecting their glass thickness, edge treatments and adding options like LED lights. The end result is a smooth, glossy finish that is as strong and durable as any natural stone or manmade countertop material.
About THINKGLASS
The ThinkGlass story began in 1999 in an empty room under the leadership of two creative individuals who were passionate about beautiful glasswork. Today, the company is one of the most successful glass design and manufacturing studios in the world with a shop that encompasses more than 30,000 square feet, 27 employees and 21 state-of-the-art, custom made ovens. ThinkGlass is still headed by its two original founders – glass master Michel Mailhot who is the artistic soul of the company, and Bertrand Charest, a certified engineer and company president. Together with their talented team, they produce all manner of glass masterpieces, from residential kitchen to bath- room vanity countertops and backsplashes to fantastical sculptures, wall murals and floor tiles, and even large-scale commercial projects for restaurants, nightclubs and offices.
ThinkGlass quickly became a leader in the thermoforming industry by pioneering a versatile technique that allows the creation of new or repetitive textures. This process allows the creation of glass slabs with-out thickness constraints opening the door to all kinds of design possibilities. All ThinkGlass creations are made from 100% recyclable glass using sustainable practices and without the use of any adhesive or sealant potentially containing harmful volatile organic compounds (VOCs).
For more information about ThinkGlass products, visit thinkglass.com or call 1-877-410-4527.