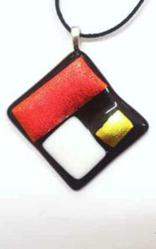 You'll have a blast learning the art of glass fusion, and take home a one-of-a-kind necklace that is totally you.
Alameda, CA (Vocus/PRWEB) July 20, 2011
The Magic Paintbrush, a Bay Area glass fusion and pottery painting studio, invites everyone to explore their crafty and creative side with classes on the art of fused glass jewelry making. The three-hour class, held at their Alameda shop, will teach participants to make unique and beautiful fused glass pendants. The popular class is taught by Sharon Frederickson, owner of the Magic Paintbrush, and Cynthia Sylvester, creator of the custom beading design company Original Cynsations. The next session is Sunday, July 24th, from 2 to 5 PM.
"In just one class, we will teach you how to make a fused glass pendant with your choice of colors and designs," says Frederickson. "You'll have a blast learning the art of glass fusion, and take home a one-of-a-kind necklace that is totally you."
The jewelry class includes all materials needed to make a fused glass pendant from standard fusible glass. Also included is a beaded, corded or cable necklace. For those who want to add some extra WOW to their necklace, dicroic glass is available for an extra charge. The optic properties of dicroic glass, made with many ultra-thin layers of various metals, make the transmitted color and the reflected color completely different.
"Whenever I wear one of my fused glass necklaces, people come up to me to ask me where I got it," says Frederickson. "They can't believe I made it myself, or that it's so easy to do."
The fused glass jewelry class is held monthly at the Magic Paintbrush studio, located at 943 Marina Village Parkway in Alameda. Upcoming classes are scheduled for July 24th, August 20th, September 25th, October 15th, and November 13th from 2 to 5 PM.
To reserve a spot at an upcoming glass fusion class, or for more information any of the Magic Paintbrush's products or services, call them at (510) 250-3662 or visit them on the web at http://www.themagicpaintbrushceramics.com.
About The Magic Paintbrush
The Magic Paintbrush is a Bay Area pottery painting, glass fusion and mosaic studio. Their pottery bisques include a variety of dishes, mugs and bowls, Disney characters, banks, jewelry boxes and figurines. Fused glass patterns can be flattened or fused into plates, bowls, and vases in their kiln. Mosaics can be made by gluing glass pieces, tiles, gems and other materials into plaques, frames, clocks, mirrors and trivets. The Magic Paintbrush hosts Bay Area birthday parties and bridal showers, and has ongoing classes, including glass fusion jewelry making and weeklong summer camp.
The Magic Paintbrush serves the San Francisco Bay Area, including the communities of Alameda, Albany, Berkeley, Emeryville, Montclair, Oakland, Piedmont, San Leandro and San Lorenzo.
###