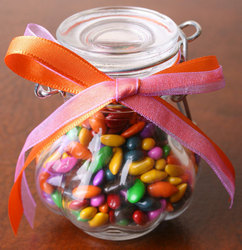 It's a small gift that will get a big response from any grandmother who enjoys canning fruits and vegetables at home
Lancaster, PA (PRWEB) September 4, 2008
Finding quality, food-grade glass containers and lids isn't as easy as it may sound. Finding free samples is unheard of. "When we looked for affordable glass containers in 1987, we found none," says President Keith Reinhart. Now, just in time for grandma this Grandparent's Day, the wholesale glass jar and lid company is offering free samples online.
For the cost of shipping, about ten dollars, anyone visiting the Fillmore Container website can request two different types of glass jars with lids free of charge. "It's a small gift that will get a big response from any grandmother who enjoys canning fruits and vegetables at home," says Reinhart. "Most of us don't even know there is a Grandparent's Day. In a small way, we hope our promotion can change that."
In addition to grandma, small business owners who want to can their best recipes and other food-packers can benefit from Fillmore Container's samples. Even candle-makers who need glass jars for their product can find them and other wholesale candle making supplies on the Fillmore website.
"We have slowly added a variety of containers to our stock offering for both food and candle use as we listen to the needs of customers," says Reinhart.
To browse Fillmore Container's glass jars and request samples call 866-FILL-JAR or visit their website at http://www.fillmorecontainer.com/.
About Fillmore Container
Fillmore Container is a wholesale glass jar and container distributor that provides affordable, food-grade glass jars for use in home canning and candle making.
###