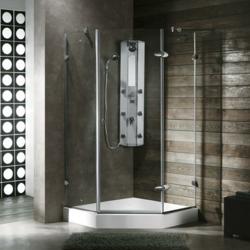 Shower doors present a much cleaner, more modern look than a shower curtain, and and a tangible, permanent value to the space.
(PRWEB) September 08, 2012
HomeThangs.com – the Home Improvement Super Store has made their goal to deliver the right product to the consumer, with that in mind, shopping and home design tips, as well as special product selections are being introduced.
It's the age old question of bathroom design, and probably the one that depends the most on the personal taste: shower curtains or shower doors? There are arguments for or against either one, but despite the fact that they serve exactly the same function, they're vastly different in style, cost, maintenance, and even user experience.
HomeThangs.com introduced a tip sheet on shower doors and shower curtains to help the consumers understand pros and cons and pick the option which would be right for them and their bathroom.
1. Style
There are several important differences between shower curtains and shower doors in the overall aesthetic of the bathroom. Even a basic shower rod can be covered in a huge variety of shower curtains. PVC or cloth, printed or solid colored, opaque or transparent, and held up by any variety of shape, size, color, or material shower rings, shower curtains offer a nearly infinite variety of styles that make it easy to mix, match, coordinate, and change bathroom decor.
Shower doors, on the other hand, are almost literally set in stone once installed. Although aren't often colorful (though some do have patterns in etched or frosted glass), shower doors look very sleek and stylish. Something like Neo-Angle Shower Enclosure from Vigo will present a much cleaner, more modern look than a shower curtain, and and a tangible, permanent value to the space. Coordinating is not an issue either, they merge well with any decor. As well, the fact that shower doors are made of glass will also make the bathroom seem larger, where shower curtains can make the it feel closed off. That said, though, even frosted shower doors offer less privacy than opaque shower curtains, if that's a concern.
2. Cost
The biggest difference between shower curtains and shower doors is cost. Even a really nice shower rod combined with a high quality washable cloth shower curtain will only cost a few hundred dollars at the most and is completely DIY-able in terms of installation. Even if changing the style (shower rings or shower curtains) frequently, the cost is low enough to be negligible. But while the start-up costs are low, shower curtains have a greater reoccurring cost than shower doors, simply because shower curtains become soiled, moldy, or even damaged over time, and need to be replaced as little as every few months, which might not seem bad, but will add up over time.
Conversely, the biggest drawback for shower doors is their expense. Whether for a shower or a shower/tub combination, shower doors can be quite costly to buy and need to be professionally installed, which can take up a significant portion of the bathroom remodel budget. But shower doors have almost no reoccurring costs – once they're installed, with proper care they'll last for many years. As well, shower doors are much less likely to go out of style, and unlike shower curtains can actually add to the value of the home.
3. Maintenance
It's a sad fact of life that shower curtains are basically magnets for mold and mildew growth. The humidity and constant moisture of a bathroom, especially a well-trafficked one, can reduce shower curtains to gross moldy ruins in a matter of just a few months, even if one has an expansive shower rod and the shower curtain is left out to dry properly. And mildew shower curtains means scrubbing, chemicals, and a trip through the washing machine.
The smooth glass surface of a shower door, like the Dresden Frameless Shower Enclosure from Roda by Basco, for example, is resistant to mold and mildew, but is more susceptible to hard water stains and soap scum, which can be just as hard to clean if left unaddressed long-term. Shower door maintenance can range anywhere from simply squeegeeing the door after every shower or equipping the shower with one of those cleaner-sprayers, to doing a thorough scrub-down with a calcium-eating cleaner or diluted vinegar once a week or so.
4. User Experience
Shower curtains are pretty flexible – they can be shoved out of the way, stretched out to dry, slung over a shower rod, or removed entirely without much effort. This also makes them the best choice for a freestanding tub, as one can get a large shower enclosure like a Rectangular Shower Rod to keep a tub enclosed for added shower functionality without a wall or three to build around. But that flexibility is a double edged sword. Shower curtains also billow, bulge, and all too often get up close and personal when one is just trying to wash the. Weights or magnets placed on the bottom edge can help lessen the problem, but still, the thought of a piece of slimy wet PVC is not very pleasant.
Shower doors, on the other hand, stay in place, either opening like a door or sliding from side to side (like Fluence Bath Door from Kohler, for example). This offers better water-proof coverage because there aren't any potential cracks for water to leak out of, but flat out won't work for a freestanding tub. As well, in a combo shower/tub the doors can slide out of the way, but one won't get a complete open air experience. That said, one also won't have to ever worry about the shower door touching, and can enjoy a better lit shower or bath because the glass door won't block the light the way a cloth or PVC shower curtain will.
HomeThangs.com is not only a home improvement superstore, it also provides expert design tips and a comprehensive shopping guide, taking the ideas from professional interior designers, and offering tips to the consumers on how to pick the products to best suit their needs.