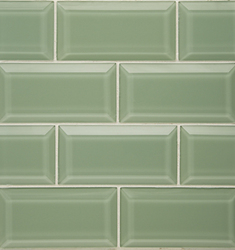 We strive to be on the cutting edge with our new product design and we are excited to expand our glass subway tile collection with a beveled edge option
Tempe, AZ (PRWEB) July 28, 2010
AnchorBayTile, a leading online supplier of accent, bathroom and kitchen tile, is pleased to announce the availability of its newest glass subway tile product, now offered with a beveled edge. Ideal for use as an accent, bathroom or kitchen tile, the beveled edge glass subway tile is the newest addition to the Solana Glass Tile collection designed and sold exclusively by AnchorBayTile.
"We strive to be on the cutting edge with our new product design and we are excited to expand our glass subway tile collection with a beveled edge option," says Steve Khan, founder and president of AnchorBayTile.com. "These tiles are available in a 3" x 6" size and come in five beautiful colors. Our beveled edge glass subway tiles also come with an optional matching quarter round edge piece for use when a project requires matching trim pieces to finish off an exposed edge," Khan says.
Khan noted that the Solana glass subway tile collection has been a favorite of customers since the collection's launch more than two years ago.
"Glass subway tile is as timeless as subway tile yet it fits well with the modern and contemporary design being favored by many of our current customers," Khan says. We look forward to our Solana beveled edge products being used in residential projects for kitchens, bathrooms and accent walls as well as commercial projects of all kinds.
The Solana beveled edge glass subway tile material is in stock and ready for immediate delivery.
About AnchorBayTile.com
AnchorBayTile.com is a full service online store offering all types of ceramic tile, glass tile, bamboo and wood tile, and metal tile for homeowners and commercial customers. The family-run company is committed to providing best-in-industry customer service to support their unique tile designs, shapes and colors. Their products are suitable for projects ranging from a basic residential remodel to a high level commercial design project.
For more information about AnchorBayTile, its new collections of glass subway tile with a beveled edge, or to browse any of the company's accent, bathroom or kitchen tile options, please visit their Web site at http://www.AnchorBayTile.com.
# # #