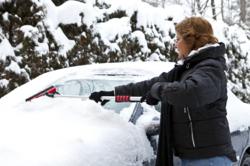 Chicago, IL (PRWEB) December 03, 2012
Driving in ice and snow conditions can be very challenging. The key to safe driving is to adapt to these conditions. As a company that focuses on auto safety, Glass America has released in their Just The Facts blog a how-to piece as a way to remind drivers to spend an afternoon doing a winter tune-up on their car or truck to prepare for icy, snowy and slushy conditions.
Glass America's checklist focuses on preventative vehicle maintenance such as replacing brakes, checking tire tread with the penny test, replace old wiper blades, changing the battery, checking the antifreeze and much more. However, one of the most critical factors is Windshields.
Windshields are a crucial and frequently overlooked potential safety hazard during winter driving. A minor chip that is not directly in the driver's line of vision can be repaired for a fraction of the cost of replacement. The windshield repair process takes about 30 minutes. Even better, most insurance companies waive the comprehensive deductible so the auto glass repair could cost nothing.
If the windshield damage is more severe than a minor chip or crack, or if the crack is in the driver's line of vision, then most likely your windshield will require replacement. For the nearest Glass America location, go to http://www.glassamerica.net/glass-america-locations.asp or call 1-888-554-4370.
About Glass America
Glass America is one of the largest independently-owned automobile glass replacement and repair companies in the country. Founded in 1999 and headquartered in Chicago, the company operates 73 service centers in 21 states under the names Glass America and Auto Glass Service. They offer a complete line of auto glass repair and replacement services for commercial and passenger vehicles with both drive-in and mobile services. All windshield installations meet the Auto Glass Replacement Safety Standards (AGRSS), have a one hour safe drive away time, and a national lifetime warranty. In contrast to many companies, Glass America only buys glass from OEM (original equipment manufactured) suppliers to ensure the perfect fit, every time. For more information, please visit http://www.glassamerica.net or call 1-888-554-4370.