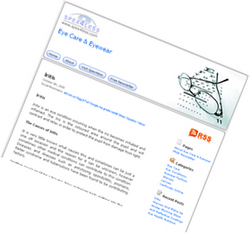 Eye care is our priority eyewear is part of the service
Bolton, Lancashire (PRWEB) October 12, 2008
The online glasses giant has been supplying glasses and spectacles all around the globe via the internet for just over 5 years and many might think that improving on their impeccable record would be a tall order.
However, according to managing director Mark Bowden there's always room for improvement.
Mark explained "Our visitors and customers are the life blood of our business, retailing prescription glasses online is a complicated affair and a good portion of our competition focus's to much on the sales side of the business instead of looking after and catering for the needs of glasses wearers.
My family has been in the optical industry for nearly 90 years now and our motto has always been "Eye care is our priority eyewear is part of the service". That's why I decided to create our Eye Care & Eywear newsletter and blog. We offer all kinds of advice and tips from healthy eating to explanations on certain eye conditions.
Although we cannot diagnose problems and always suggest visitors to seek advice from there optician we find that some opticians simply are not spending enough time explaining their particular condition. Our blog and newsletter provides them with a more detailed explanation and can often ease concerns."
Spex4less have certainly been proactive in raising awareness of patient concerns throughout the optical industry.
When they first launched the eye care blog in July last year within hours the blog received hundreds of comments left by visitors, hit the top of Google for the search term "eye care advice" and attracted attention from "The Optician" an optical magazine issued to opticians in the UK. Mark has also been a speaker at "the great specs debate" where opticians discuss all aspects of eye care and eyewear dispensing and has been invited to round table dinner discussions with optical industry experts.
With so many businesses feeling the pinch of the credit crunch it's nice to see that some of them are still moving forward with dedication, conviction and can still provide the after care and gratitude that customers deserve.
###