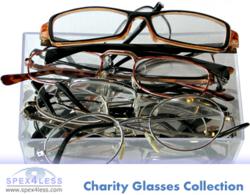 After successfully supplying glasses online since 2004 we're delighted to be giving something back and in our mind there's no better way than to help provide sight for those less fortunate
Wirral, Merseyside (PRWEB UK) 23 May 2011
Spex4less.Com supplies prescription glasses online and is pleased to launch its national campaign to collect unwanted and out dated prescription glasses to help provide sight to less fortunate individuals in developing countries.
Almost every wearer of prescription glasses has a few old pairs lying around the house simply gathering dust. Also, as prescriptions change over time in the majority of these glasses are of no use and are no longer required by the owner.
These glasses can be sent to Spex4less who will make minor repairs, categorise them and then send them to help provide the gift of sight in countries such as Burkina Faso, Ethiopia, Ghana, India, Sierra Leone, Uganda & Zambia.
Director John Styles from Spex4less explained "After successfully supplying glasses online since 2004 we're delighted to be giving something back and in our mind there's no better way than to help provide sight for those less fortunate, something which most of us take for granted every day.
Since starting the campaign we've received 100's of pairs of glasses. We're only too happy to put in a little overtime to repair and sort the glasses and we're extremely grateful to those that have already donated".
Spex4less has also initiated steps to run a nationwide campaign involving Schools & Colleges to help collect even more glasses whilst allowing teachers to educate students about developing countries in an interactive way.
Full address details and instructions on how to donate your glasses can be found at http://www.spex4less.com
###