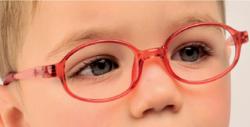 For over 20 years, Miraflex has dedicated itself to the development of the most suitable children's frames.
(PRWEB) August 29, 2012
When one first finds out that their kid needs glasses, panic sets in. How does one make sure kid wears them all the time? How to make sure glasses don't break in a week's time? What if they are uncomfortable for the child in some way? There are difficult choices to make and lots of questions that only experts might answer.
As buyers for GlassesOnWeb, we've seen frames from all the major brands. One of them really caught our attention, because it's not just a sub-line for kids, it's an entire brand dedicated to children's eyewear. Miraflex has been in the industry 20 years, during which time they worked on developing and perfecting the most suitable frames for children. With glasses for each age group, Miraflex ensures practicality, safety and aesthetic. We are pleased to announce that we are now carrying this brand, with a few styles already available in the shop and more coming soon.
The Flexible & Safe line is designed for babies, toddlers and physical activities, as they're entirely metal free – they don't even have hinges! They come with an elastic head band, which keeps the frame centered for the most optimal correction. The frames are intended to increase the wearer's comfort, with an anatomically designed bridge that distributes weight on a larger surface. The materials used are lightweight and malleable, making it possible to adjust the frames on the child's face for an early correction of refractive errors and strabismus treatments.
Round, oval and rectangular are the main shapes that you and your kid can pick from. The colors? Virtually unlimited versions. Color choices are very important in kids' eyewear, because it may be a matter of hue if your child wants to wear a pair of glasses or not. Miraflex glasses also come in sport or trendy varieties, the former being especially light and aerodynamic, and the latter being crafted in gradient colors.
With the use of high end technology and thorough research in children's wear, Miraflex glasses are definitely the number one choice for kids in North America, Europe and Asia. Pediatric Ophthalmologists everywhere recommend them, parents pledge for their quality and durability, and kids just love them!
About GlassesOnWeb.com: Founded in 2003, Glasses on Web is your go-to online marketplace for designer eyewear. We take pride in our low prices, high quality products and great customer service. Because the customer always comes first, we offer discounts and free shipping on all our products.