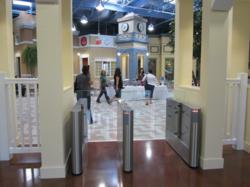 The sleekness of the turnstile design was also a big factor — it fit into the vision for our new building. Both the GlassGate optical turnstiles and the Door Detective units have been beneficial for enhancing our building security."
Austin, TX (PRWEB) July 10, 2012
Smarter Security, Inc., provider of premium, innovative entrance control and outdoor security solutions, today announced that Vocus recently deployed Fastlane GlassGate™ 200 optical turnstiles in the main lobby of the company's new headquarters building in Beltsville, Maryland. To further secure the building, Vocus also placed Smarter Security's Door Detective on all exterior doors to more effectively secure every passageway into the building. The recently-opened global headquarters for Vocus is a one-of-a-kind building with a town-style setting that elevates aesthetics and convenience for employees.
"We wanted a higher level of security in our new headquarters and our executive leadership emphasized the importance of choosing solutions that are elegant, seamless and offer solid control over access," said Ryan Rohaley, Vice President of Technology Operations for Vocus. "We liked the features of Smarter Security's Fastlane GlassGate 200 and the ease with which the turnstiles integrated with our access control and monitoring systems. The sleekness of the turnstile design was also a big factor — it fit into the vision for our new building. Both the GlassGate optical turnstiles and the Door Detective units have been beneficial for enhancing our building security."
Vocus installed two lanes of Smarter Security's GlassGate 200 turnstiles with 4-foot high barriers in the main lobby of the company's headquarters. The company chose GlassGate because it provides a sizeable visual deterrent and has barrier gates that move in a familiar door-like motion. Six doors on the perimeter of the building used by Vocus employees are further protected with Smarter Security's Door Detective tailgate detection system. The door-mounted units alarm any attempts by unauthorized individuals to tailgate into the building behind Vocus staff or enter through an open door as employees are leaving. Installed near work areas throughout the building, Vocus selected Door Detective CL because of its elegant design and use of status indicator lights.
"We're pleased that our access control solutions were selected by Vocus to play an important part in securing the company's unique headquarters building," said Jeff Brown, CEO of Smarter Security. "It's clear that Vocus cares greatly about its employees, and providing them a secure work environment with security solutions that are unobtrusive reflects this value. Our GlassGate and Door Detective products are a perfect fit as the company blends high security with small footprints and premium aesthetics."
Fastlane GlassGate 200 is one of several speedgate models offered by Smarter Security to help automate and strengthen lobby security. The company also offers barrier-arm models and pure optical turnstiles with no barriers. Smarter Security's Door Detective CL is the company's premium tailgate detection model, and is designed to work with an access control system to force all individuals passing through an access-controlled door to present authorization. Door Detective can be used on interior and exterior doors.
The design of Vocus's new 93,000 square foot corporate campus aims to bring previously dispersed employees together and foster greater interaction. Called Vocus Town, the building has a town-style setting with a "Main Street" theme, off of which conference rooms and other corporate areas are located and designed to resemble storefronts, such as a café, bank, spa, surf shop and fitness center. The company's unique workplace encourages social engagement, makes work more fun, and reflects why Vocus is routinely named one of the best places to work in the Washington D.C. area.
About Smarter Security, Inc.
Smarter Security provides premium and innovative entrance control and outdoor security solutions to help organizations protect their people and assets in a world of ever-present threats. Since 1992, Smarter Security has offered Fastlane turnstiles, the most elegant and intelligent optical turnstiles available, which protect thousands of commercial and governmental lobbies on six continents. Smarter Security also offers perimeter intrusion detection systems, including SmarterFence, a fiber optic fence-mounted sensor. For more information, please visit http://www.smartersecurity.com.
About Vocus
Vocus (NASDAQ: VOCS) is a leading provider of cloud marketing software that helps businesses reach and influence buyers across social networks, online and through media. Vocus provides an integrated suite that combines social marketing, search marketing, email marketing and publicity into a comprehensive solution to help businesses attract, engage and retain customers. Vocus software is used by more than 120,000 organizations worldwide and is available in seven languages. Vocus is based in Beltsville, MD with offices in North America, Europe and Asia. For further information, please visit http://www.vocus.com or call (800) 345-5572.