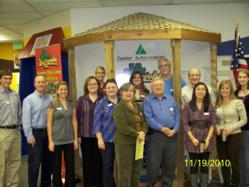 Preparing today's young people for tomorrow's opportunities is priceless," said Ed Jacobson, President of the Baltimore CPA Firm of Glass Jacobson.
Baltimore, Maryland (PRWEB) August 27, 2012
Celebrating 50 years in business, the Baltimore CPA firm-Baltimore Wealth Management firm of Glass Jacobson is partnering with the leaders of tomorrow by helping them learn the keys to financial freedom and business expertise.
The Baltimore CPA Firm is partnering with Junior Achievement in spearheading a new recycling program they are calling Upcycling. (A New Way To Give). Upcycling is the process of converting waste materials or useless products into new materials or products of better quality or a higher environmental value. This project will not only raise funds but will also provide a Go Green outlet for those who have outdated and unwanted small personal electronics and provide a disposal of those items as well. I am sure every one of us has a drawer full of these types of products we can donate. The monies raised from the donated items will benefit Junior Achievement and help with their financial needs to fund their programs in financial literacy, workforce readiness and entrepreneurship that fully prepare Baltimore's youth for the future.
"Preparing today's young people for tomorrow's opportunities is priceless," said Ed Jacobson, President of the Baltimore CPA Firm of Glass Jacobson. "We can think of no better way to celebrate our 50th anniversary than by helping to guarantee the financial and business education of our future generations. Plus, we're helping to responsibly dispose of unwanted electronics that would otherwise end up in a landfill."
Qualifying donations include used iPods and iPhones, smart and cell phones, laptops, tablets and E-readers, video games, digital cameras and more than 60,000 other electronic items! Mr. Jacobson told us we could visit Junior Achievement for a full list of qualifying items and to make a donation with FREE POSTAGE.
Over the years The Baltimore CPA Firm and Baltimore Wealth Management firm of Glass Jacobson has amassed some great honors and here are but a few of them:
Glass Jacobson was recognized in December 2011 as one of Baltimore's Top Workplaces and was the category winner for Work-Life Balance by the Baltimore Sun
Both Ed Jacobson, CPA, CVA and Michael Cohen, CPA have been recognized as 5 Star Baltimore Wealth Managers in Baltimore Magazine's February 2011 issue
Glass Jacobson featured in the February 2008 issue of Forbes Magazine as the Top Investment Firm in Maryland
Glass Jacobson recognized nationally as a Wealth Magnet: Top CPA/Financial Planning Firm for assets under management by the CPA Wealth Provider
Glass Jacobson recognized nationally as Top Investment Firm ranked by Asset Growth in "Financial Advisor Magazine."
Founded in Baltimore in 1962 as a traditional CPA firm, Glass Jacobson has evolved into a wealth management firm to better serve its clients' diverse, ever-growing financial needs. Today, the firm's unique Wealth Management Model brings together the essential services of Investment Management, Advanced Planning and tax and accounting, and delivers them with unparalleled expertise and professionalism. Serving as a personal and business advisor, Glass Jacobson looks beyond the numbers to get to the core of every client's financial situation. The firm delivers a full team of in-house CPAs, investment advisors, financial planners and insurance specialists to every client.
JUNIOR ACHIEVEMENT (http://www.ja.org) Junior Achievement is the world's largest organization dedicated to educating students about workforce readiness, entrepreneurship and financial literacy through experiential, hands-on programs. JA's unique approach allows volunteers from the community to deliver our curriculum while sharing their experiences with students. Embodying the heart of JA, our 382,637 classroom volunteers transform the key concepts of our lessons into a message that inspires and empowers students to believe in themselves, showing them they can make a difference in the world.
GLASS JACOBSON
http://www.glassjacobson.com
Baltimore, MD
10711 Red Run Boulevard
Suite 101
Owings Mills, MD 21117
Phone: (410) 356-1000
Toll-free: (800) 356-7666
Fax: (410) 356-2892
Washington, DC
1901 Research Boulevard
Suite 300
Rockville, MD 20850
Phone: (301) 917-3040
Fax: (301) 738-7060
sarah.sedlak(at)glassjacobson(dot)com
.