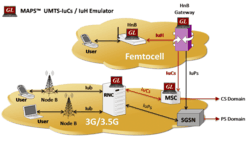 Our latest product UMTS IuCs and IuH interface emulates all elements involved in the IuCs and IuH interfaces, namely the RNC, MSC, Home NodeB (HnB - Femtocell), and Home NodeB (HnB) Gateway
Gaithersburg, Maryland (PRWEB) November 22, 2011
GL Communications Inc. announced today the release of its latest product Emulation of 3G Protocols Over IP.
Addressing a press conference, Mr. Karthik Ramalingam, Product Development Manager, said, "The transition to an all IP infrastructure is not necessarily waiting for LTE (4G). Carriers are building out their 3G networks opting for IP (Internet Protocol) over ATM (Asynchronous Transfer Mode) in the core network as well as the Radio Access Network (RAN). Although ATM was the original transport / switching methodology recommended by standards bodies for 3G, it's been widely accepted that IP is more flexible and economical in accommodating a mix of traffic (voice, video, and data) while providing almost equal performance for real time traffic, e.g. voice. IP provides much better link utilization for heavily loaded last mile links (Node B to RNC – so called "backhaul links"). Our latest product emulates all elements involved in the IuCs and IuH interfaces, namely the RNC, MSC, Home NodeB (HnB - Femtocell), and Home NodeB (HnB) Gateway".
He added, "Universal Mobile Telecommunications System, or UMTS, is a 3rd generation mobile technology evolved from GSM (2nd generation) technology. It uses WCDMA (Wideband CDMA) as the radio access technology. With increased spectral efficiency and higher bandwidth, the UMTS network can support greater data rates as well as voice and video to wireless end-users. The underlying transport layer for UMTS in the core network can be Asynchronous Transfer Mode (ATM), or Internet Protocol (IP).
IP based UMTS supports integrated services such as multimedia and global roaming to mobile users. To emulate the various components of UMTS, GL utilizes its MAPS foundation architecture – a versatile platform for detailed emulation of a wide variety of protocols. MAPS™ supports emulation of many protocols like ISDN, SS7, GSM, LTE, SIP, Megaco, MGCP, SIGTRAN, and many others."
Mr.Ramalingam further added, "GL's Message Automation & Protocol Simulation (MAPS™) designed for UMTS – IuCs interface can emulate the RNC (Radio Network Controller) and the MSC (Mobile Switching Centre) by generating RANAP and DTAP signaling messages over SCTP. RANAP is a control plane protocol (Iu interface) between RNC (Radio Network Controller) and the CN (Core Network) in the UMTS stack. DTAP is a layer 3 protocol between the MSC (Mobile Switching Center) and the MS (Mobile Station).
GL's Message Automation & Protocol Simulation (MAPS™) designed for UMTS – IuH interface can simulate Femto Home Node B (HnB), and a Femto Home Node Gateway (HnB-GW) by generating RANAP signaling messages over SCTP as Transport layer. A femtocell is a small cellular base station designed for use in residential or small business environments. Femtocells can offload the RAN and provide better coverage, plus improved data download & upload speeds. IuH links Femto Access Point (HNB) and a Femto Gateway (HNB-GW).
MAPS™ also supports RTP traffic simulation over UMTS-IuCs and UMTS-IuH interfaces. RTP traffic simulation supports the following actions for almost all standard codecs:Transmitting Voice Files, Transmitting DTMF, MF Digits, and other Tones and Dual Tones, Recording Voice Files, Monitoring Single and Dual Tones, DTMF and MF digits, Loopback, Talk using Microphone, Play to Speaker."
Some of the Important Features:
·Simulates MSC, RNC, HNB, and HN GW entities
·Generates and process all Mobility Management, Session Management, RANAP, and DTAP messages
·User controlled access to RANAP, and DTAP messages
·Ready scripts for Mobile Originating, Mobile Terminating, Location Updating procedures for quick testing
·Supports Authentication, TMSI Reallocation, Encryption, and other optional procedures
·Provides fault insertion, and erroneous call flows testing capability.
·Impairments can be applied to messages to simulate error conditions
·Supports RTP traffic generation and reception (requires additional license)
About GL Communications Inc.,
Founded in 1986, GL Communications Inc. is a leading supplier of test, monitoring, and analysis equipment for TDM, Wireless, IP and VoIP networks. Unlike conventional test equipment, GL's test platforms provide visualization, capture, storage, and convenient features like portability, remotability, and scripting.
GL's TDM Analysis & Emulation line of products includes T1, E1, T3, E3, OC-3, OC-12, STM-1, STM-4, analog four-wire, and analog two-wire interface cards, external portable pods, and complete system solutions. Capabilities include voiceband traffic analysis and emulation across all traffic types (voice, digits, tones, fax, modem), all protocols (ISDN, SS7, GR-303, Frame Relay, HDLC, V5.X, ATM, GSM, GPRS, LTE, etc.), and with capacities up to thousands of channels. Our newest products provide astonishing capacity and capture capability up to and including gigabit speeds.
GL's VoIP and IP products generate / analyze thousands of calls and traffic simultaneously with traffic types such as frames, packets, voice files, digits, video, tones, noise, and fax. Almost all codecs are supported including G.711, G.729, AMR, EVRC-A,B,C, GSM, iSAC, and many more. Additional features include visual analysis, real-time listening, and recording. The product line also includes Ethernet / IP Testing capability that simulates and checks frame transport and throughput parameters of Ethernet and IP networks, including delay, errors and other impairments.
GL's Voice Quality Testing (VQT) product line complements all of GL's products. Using ITU-standard algorithms (PAMS, PSQM, and PESQ), GL's VQT provides a widely accepted solution for assessing voice quality in the telecom industry. Voice Quality Testing across multiple networks (T1, E1, T3, E3, OC-3, OC-12, VoIP, Wireless, and Landline) are all available.
GL's Wireless Products perform protocol analysis and voice quality assessment on GSM, CDMA, UMTS, and LTE networks. Connections can be made to any wireless phone with automated call control, GPS mapping and real-time signal measurements.
GL's Echo Canceller testing solutions provide the broadest range of simulation and analysis, including line and acoustic echo. GL's compliance testing per G.168. G.167 and P.340 across TDM, IP, VoIP and Wireless networks is widely accepted in the industry.
GL's wireless VQT solutions help assessing impairments to voice quality such as poor mobile phone quality, voice compression and decompression algorithms, delay, loss and gain in speech levels, noise, acoustic and landline echo, and other distortions are easily assessed and accurately measured.
GL's Handheld data testers can test a wide variety of communications facilities and equipment including T1, fractional T1, E1, fractional E1, T3 and E3 modems, multiplexers, CSU, DSUs, T1 CSUs, DTUs, NTUs and TIUs and more. The testers provide convenience, economy, and portability for almost any interface, including RS232, RS-422, RS-530, X.21, T1, E1, T3, E3, and many others.
GL's Network Surveillance and Monitoring products include Probes for TDM, IP, VoIP, ATM, and Wireless networks. An open standards based approach provides a scalable, feature rich, real-time access to network characteristics. Centralized or distributed access, efficient transport and database loading allow compatibility with 3rd party and standards based monitoring systems.
###