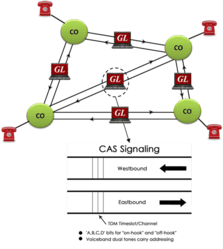 CAS Analyzer supports real-time monitoring and decoding of CAS signaling events over T1 E1 networks. MAPS™ CAS automates the testing procedure with ready scripts for inbound and outbound calls.
Gaithersburg, Maryland, (PRWEB) January 31, 2013
Gaithersburg, Maryland, USA -January 30, 2013- GL Communications Inc. a leader in providing PC-based test, analysis and simulation products and consulting services to the worldwide telecommunications industry, announced today the availability of its Channel Associated Signaling (CAS) Analysis and Emulation software.
Speaking to media persons, Mr. Jagdish Vadalia Senior Manager for Product Development of the company said, " GL's CAS Analyzer supports real-time monitoring and decoding of CAS signaling events over T1 E1 networks. Supported standards include MFCR2 and R1 protocols. The Real-time CAS Analyzer requires GL's T1/E1 internal cards or USB T1 E1 external units, and corresponding software licenses and works on a Windows® XP (or higher) Operating System."
He added, "GL's MAPS™ CAS Emulator is a client-side application that works along with GL's T1 E1 Analyzer Cards and Windows Client/Server software. This test tool is used to perform testing using CAS signaling and transmission and detection of TDM traffic over T1 E1 using scripts, and offers a complete solution for testing, troubleshooting, and maintenance of devices and networks implementing CAS. MAPS™ CAS automates the testing procedure with ready scripts for inbound and outbound calls. Calls are established, once the signaling information such as signaling bits, DTMF/MF digits, or Tones are sent or detected."
Some of the Important Features Of CAS Protocol Analyzer
·Displays summary, detail, hex-dump, and statistics views
·Streams may be captured on the selected time slots (contiguous or non-contiguous) and on full bandwidth
·Supports filtering and search based on digits, type of digits, signals etc
·Exports Summary View information to a comma delimited file for subsequent import into a database or spreadsheet
·Capability to export detailed decode information to an ASCII file
·Status bar displaying information regarding running percent utilization, number of frames captured, CRC errors and frame errors etc
·Any protocol field can be added to the summary view, filtering, and search features providing users more flexibility to monitor required protocol fields.
Some of the Important Features Of CAS Protocol Emulator
·Automated CAS signaling simulation over TDM (E1 T1).
·Multiple T1 E1 line interfaces supported.
·Accesses the T1 (or E1) analyzer remotely.
·Supports ANI and DID identification.
·Customized signaling for each channel through scripts.
·Supports transmission and detection of traffic information such as signaling bits, power level, DTMF/MF digits, voice, or single/dual Tones
·Supports generation and detection of TDM traffic over CAS network
·Supports customization of inbound and outbound calls using Profile editor and Script editor.
·Capability of remote operation, automation, and multi-site connectivity with Command Line Interface (CLI) support
About GL Communications Inc.,
Founded in 1986, GL Communications Inc. is a leading supplier of test, monitoring, and analysis equipment for TDM, Wireless, IP and VoIP networks. Unlike conventional test equipment, GL's test platforms provide visualization, capture, storage, and convenient features like portability, remotability, and scripting.
GL's TDM Analysis & Emulation line of products includes T1, E1, T3, E3, OC-3, OC-12, STM-1, STM-4, analog four-wire, and analog two-wire interface cards, external portable pods, and complete system solutions. Capabilities include voiceband traffic analysis and emulation across all traffic types (voice, digits, tones, fax, modem), all protocols (ISDN, SS7, GR-303, Frame Relay, HDLC, V5.X, ATM, GSM, GPRS, LTE, etc.), and with capacities up to thousands of channels. Our newest products provide astonishing capacity and capture capability up to and including gigabit speeds.
GL's VoIP and IP products generate / analyze thousands of calls and traffic simultaneously with traffic types such as frames, packets, voice files, digits, video, tones, noise, and fax. Almost all codecs are supported including G.711, G.729, AMR, EVRC-A,B,C, GSM, iSAC, and many more. Additional features include visual analysis, real-time listening, and recording. The product line also includes Ethernet / IP Testing capability that simulates and checks frame transport and throughput parameters of Ethernet and IP networks, including delay, errors and other impairments.
GL's Voice Quality Testing (VQT) product line complements all of GL's products. Using ITU-standard algorithms (PAMS, PSQM, and PESQ), GL's VQT provides a widely accepted solution for assessing voice quality in the telecom industry. Voice Quality Testing across multiple networks (T1, E1, T3, E3, OC-3, OC-12, VoIP, Wireless, and Landline) is available.
GL's Wireless Products perform protocol analysis and voice quality assessment on GSM, CDMA, UMTS, and LTE networks. Connections can be made to any wireless phone with automated call control, GPS mapping and real-time signal measurements.
GL's Echo Canceller testing solutions provide the broadest range of simulation and analysis, including line and acoustic echo. GL's compliance testing per G.168. G.167 and P.340 across TDM, IP, VoIP and Wireless networks is widely accepted in the industry.
GL's wireless VQT solutions help assessing impairments to voice quality such as poor mobile phone quality, voice compression and decompression algorithms, delay, loss and gain in speech levels, noise, acoustic and landline echo, and other distortions are easily assessed and accurately measured.
GL's Handheld data testers can test a wide variety of communications facilities and equipment including T1, fractional T1, E1, fractional E1, T3 and E3 modems, multiplexers, CSU, DSUs, T1 CSUs, DTUs, NTUs and TIUs and more. The testers provide convenience, economy, and portability for almost any interface, including RS232, RS-422, RS-530, X.21, T1, E1, T3, E3, and many others.
GL's Network Surveillance and Monitoring products include Probes for TDM, IP, VoIP, ATM, and Wireless networks. An open standards based approach provides a scalable, feature rich, real-time access to network characteristics. Centralized or distributed access, efficient transport and database loading allow compatibility with 3rd party and standards based monitoring systems.