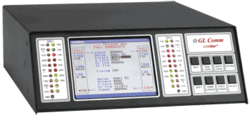 The GL's enhanced Portable Dual T1 E1 Data Simulator i.e. LinkSim™ simulates a variety of communications links, inserting delays and inserting errors such that the user can determine what effects these impairments will have on their systems
Gaithersburg, MD (PRWEB) April 25, 2013
GL Communications Inc., a leader in providing PC-based test, analysis and simulation products and consulting services to the worldwide telecommunications industry, announced today its enhanced Portable Dual T1 E1 Data Simulator.
Speaking to media persons, Mr. Vijay Kulkarni, CEO of the company, said, "The GL's enhanced Portable Dual T1 E1 Data Simulator i.e. LinkSim™ simulates a variety of communications links, inserting delays and inserting errors such that the user can determine what effects these impairments will have on their systems."
He added, "The LinkSim™ includes six pairs of interfaces - RS232, RS422/RS530, V.35, X.21, HSSI and T1 E1. It can introduce propagation delays in either or both directions. Propagation delays can be up to 1.999 seconds per direction for speeds up to 2.048 Mbps and up to 500 milliseconds for speeds from 8.192M to 50 Mbps."
Mr.Kulkarni further added, "The LinkSim™ can inject logic, ones, zeros, timing slips, bit, burst, frame, BPV, CRC, FDL, signaling, block, C-Bit and P-Bit errors in either or both directions."
Main Features
· Simulates a variety of communications facilities
· Supports T1 E1, RS232, V.35, RS422/RS530, X.21, HSSI
· Supports 78 data rates from 1,200 to 50M bps
· Inserts delays up to 1.999 second in each direction
· Inserts errors and timing slips in each direction
· Delays, errors and speeds can be different in each direction
· All operating parameters, including interfaces, speeds, delays, errors and control signals are illustrated on a single screen
· Parameters are selected by scrolling through values stored in the LinkSim™
Applications
· Testing protocols and error correction techniques
· Checking new equipment prior to field installation
· Measuring performance and reliability in various operating environments
About GL Communications Inc.,
Founded in 1986, GL Communications Inc. is a leading supplier of test, monitoring, and analysis equipment for TDM, Wireless, IP and VoIP networks. Unlike conventional test equipment, GL's test platforms provide visualization, capture, storage, and convenient features like portability, remotability, and scripting
GL Communications has over the years worked with major telecom equipment vendors (EVs) and system integrators to meet the testing requirements arising at various stages of telecommunications product development life cycle.
With its proven expertise of over 25 years, GL has a comprehensive suite of telecom testing solutions to verify and ensure 'quality and reliability' of variety of telecom networks including Wireless, and high-speed fiber optic lines.
GL's test tools range from simple PC-based software test tool to all-encompassing hardware units with futuristic expansion capabilities. GL's test solutions cover wide array of networks – 4G (LTE), 3G, IP, Ethernet, T1, T3, E1, E3, OC-3/STM-1, OC-12/STM-4, and traditional PSTN networks.
GL's tools are widely used by the telecommunication industry for conformance testing, automated stress/load testing, performance testing, remote accessibility, centralized web-based control and analysis, fault testing and analysis, and customized testing.