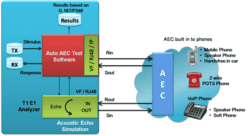 The Automated AEC Test Software uses GL Communications' T1 E1 Analyzer products and the customers AEC hardware or software to perform Acoustic Echo Canceller testing.
Gaithersburg, Maryland (PRWEB) June 04, 2013
GL Communications Inc. a leader in providing PC-based test, analysis and simulation products and consulting services to the worldwide telecommunications industry, announced today enhanced Acoustic Echo Compliance Software Per G.167 and P.340 Standards.
Speaking to media persons, Mr. Vijay Kulkarni CEO of the company said, "GL's Automated Acoustic Echo Cancellation (AEC) Compliance Test Software is a feature rich application used to perform acoustic echo cancellation testing in accordance with ITU-T Specifications, G.167 (03/1993) and P.340 (05/2000) standards."
He added, "The Automated AEC Test Software uses GL Communications' T1 E1 Analyzer products and the customers AEC hardware or software to perform Acoustic Echo Canceller testing. Rin and Sin files (stimulus and echo) are prepared by Automated AEC Test software in accordance with user inputs. Rout and Sout are captured and processed.
The module, which includes AEC, Rin, Rout, Sin and Sout, can be a Sound Card, a Mobile Phone, a Regular Phone, an IP Phone, or a Speaker Phone. Rin is the source signal (from the far end), which goes through Acoustic Echo Canceller (AEC) and Sout is the echo cancelled signal, which comes out of AEC. The leakage from Rout to Sin is due to the acoustic echo."
Mr. Kulkarni further added, "In the past, modeling and replicating acoustic echo has been quite complicated often requiring a sound chamber, head and torso, etc. GL has simplified the process considerably by modeling the acoustic echo path and dynamically changing its characteristics. In effect, the echo path can be made to vary in a manner similar to the real world. Also, the echo path can be specified to mimic a "small room", a "car", a "medium size conference room", etc. Dynamism is introduced by slowly morphing the impulse response coefficients in a predetermined manner.
The above features have been incorporated into DSP operators within our Windows Client Server (WCS) software. This software is available with our T1 E1 product platforms, including USB T1 E1 Analyzer, Universal T1 E1 Cards, and tProbe™ T1 E1 units. GL's T1 E1 Analyzer cards is featured with the Windows Client/Server DSP Operation module, which allows real-time testing using DSP commands to perform functions such as Amplification/Attenuation, Delay, Filter, File Tx/Rx, Logical operations, Echo Cancel, and so on."
Important Features:

Simulates an actual acoustic echo path with acoustic filter types (Small, Medium, Large Office), Echo path delays and losses.
Features such as filter, attenuate, and delay are available as well as slow filter coefficient variation as a function of time to simulate a real acoustic environment.
Real-time as well as off-line analysis with tabular Pass/Fail results.
Simulate acoustic echo for Analog (Mobile Phone), digital (Gateway), and Packet (VoIP IP Phone) applications.
Auto or Manual control of the AEC during testing.
Auto analysis of the response according to G.167 (03/1993) & P.340 (05/2000) requirements.
Detailed graphical and tabular results for individual and overall test.
Generation of report with the plots (Report Analysis).
Options to recalculate test parameter across different region in the waveform (Plot Results).
Option to zoom-in on any test results to investigate further.
Supported on Windows Operating System with user-friendly Graphical User Interface.
Compatible with GL's Universal HD T1/E1 Cards, USB Portable T1/E1 units, and tProbe™ T1/E1 units
About GL Communications Inc.,
Founded in 1986, GL Communications Inc. is a leading supplier of test, monitoring, and analysis equipment for TDM, Wireless, IP and VoIP networks. Unlike conventional test equipment, GL's test platforms provide visualization, capture, storage, and convenient features like portability, remotability, and scripting
GL Communications has over the years worked with major telecom equipment vendors (EVs) and system integrators to meet the testing requirements arising at various stages of telecommunications product development life cycle.
With its proven expertise of over 25 years, GL has a comprehensive suite of telecom testing solutions to verify and ensure 'quality and reliability' of variety of telecom networks including Wireless, and high-speed fiber optic lines.
GL's test tools range from simple PC-based software test tool to all-encompassing hardware units with futuristic expansion capabilities. GL's test solutions cover wide array of networks – 4G (LTE), 3G, IP, Ethernet, T1, T3, E1, E3, OC-3/STM-1, OC-12/STM-4, and traditional PSTN networks.
GL's tools are widely used by the telecommunication industry for conformance testing, automated stress/load testing, performance testing, remote accessibility, centralized web-based control and analysis, fault testing and analysis, and customized testing.