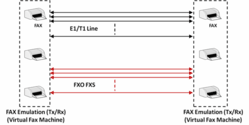 GL's enhanced Fax Simulator. and Analysis software is capable of transmitting and receiving over many T1 E1 timeslots or through two-wire FXO and FXS lines.
Gaithersburg, MD (PRWEB) July 04, 2013
GL Communications Inc. a leader in providing PC-based test, analysis and simulation products and consulting services to the worldwide telecommunications industry, announced today its enhanced Fax Simulation and Analysis software over T1 E1 and Analog Lines.
Speaking to media persons, Mr. Vijay Kulkarni CEO of the company said, "GL's enhanced Fax Simulator and Analysis software is capable of transmitting and receiving over many T1 E1 timeslots or through two-wire FXO and FXS lines. The software can emulate many "virtual fax machines" - transmitter as well as receiver. All variations are supported."
He added, "Fax Simulator can be used with any GL Protocol Emulation tools such as MAPS™ CAS emulator, MAPS™ ISDN emulator, and MAPS™ SS7 emulator to simulate complete real time Fax calls."
Mr.Kulkarni further added, "GL also supports fax decoder/demodulator software that processes 2-Wire or 4-Wire captures and analyzes voiceband traffic files for fax traffic. The application operates either stand-alone from a batch file or as part of the GL's VoiceBand Analysis application to produce decoded fax image TIFF files and other transmission information."
Important Applications
· Load Testing - sending or receiving up to hundreds of faxes simultaneously; one end can send and receive simultaneously on different timeslots; over many T1 E1 lines; over many FXO or FXS lines; any signaling protocol can be used such as PRI ISDN, SS7, or CAS
·V.34 Testing - there are many fax modulations and V.34 is the fastest, permitting many pages to be transmitted quickly.
·High Speed / Low Speed - fax protocol consists of low speed handshaking and high speed image transmission
·Multiple Pages - single or multiple page fax transmission is supported
·With or without ECM - Error Correction Mode permits the retransmission of erred pages.
·Alaw and µlaw - In TDM networks, USA uses µlaw and the rest of the world use Alaw – both coding standards are supported
·Over T1 E1, PSTN, IP - Fax transmission may be over T1 E1 digital lines, over PSTN FXO / FXS lines, or over VoIP (packet) networks
·Output Tiff Image
About GL Communications Inc.,
Founded in 1986, GL Communications Inc. is a leading supplier of test, monitoring, and analysis equipment for TDM, Wireless, IP and VoIP networks. Unlike conventional test equipment, GL's test platforms provide visualization, capture, storage, and convenient features like portability, remotability, and scripting
GL Communications has over the years worked with major telecom equipment vendors (EVs) and system integrators to meet the testing requirements arising at various stages of telecommunications product development life cycle.
With its proven expertise of over 25 years, GL has a comprehensive suite of telecom testing solutions to verify and ensure 'quality and reliability' of variety of telecom networks including Wireless, and high-speed fiber optic lines.
GL's test tools range from simple PC-based software test tool to all-encompassing hardware units with futuristic expansion capabilities. GL's test solutions cover wide array of networks – 4G (LTE), 3G, IP, Ethernet, T1, T3, E1, E3, OC-3/STM-1, OC-12/STM-4, and traditional PSTN networks.
GL's tools are widely used by the telecommunication industry for conformance testing, automated stress/load testing, performance testing, remote accessibility, centralized web-based control and analysis, fault testing and analysis, and customized testing.