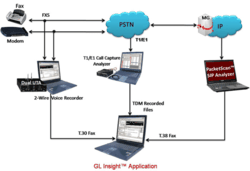 GLInsight™ is a state-of-the-art system that provides promptly processed information and analysis of data collected on IP and PSTN networks.
Gaithersburg, Maryland, (PRWEB) April 09, 2013
GL Communications Inc. a leader in providing PC-based test, analysis and simulation products and consulting services to the worldwide telecommunications industry, announced today its enhanced software tool GLInsight™ that helps in post processing of Fax and Modem Calls.
Speaking to media persons, Mr. Robert Bichefsky Senior Manager for product development of the company said, "GLInsight™ is a state-of-the-art system that provides promptly processed information and analysis of data collected on IP and PSTN networks. Decoded results are analyzed on a per-network basis. Alternatively, data from two networks can be combined to provide additional insight into the networks' behavior. It has a Windows®-based user-friendly GUI which supplies the developer with varied and valuable information. Results files and transmitted graphics, signal level, and signal quality are just a few of the diagnostic tools provided."
He added, "GL Insight™ enables decoding and analysis of pre-recorded modem and fax transmissions. The transmission signals can be recorded from PSTN or IP media. It is a unique system used by developers of modem and fax technology often in interoperability labs. GL Insight™ can be used during the development and deployment phases of the products that support fax and modem transmission. It receives the recorded modem or fax transmissions in one of the two ways: As raw signal files (PCM files) - in either mono or stereo format, As IP capture files - created by capturing devices or by software."
Mr. Bichefsky further added, "GLInsight™ demodulates the raw transmissions and presents the decoded data in an easy to understand format. It produces extensive log files with all relevant debugging information for easy event tracing which in turn provides insight to potential sources of problems."
Main Features:
·Enables demodulation and analysis of Data (Modem), Fax, Mobile Fax, Mobile Data, and VoIP transmissions over TDM and IP networks
·Offline analysis of TDM & IP captured files
·Supports Windows® XP, and Windows®7 (32 and 64 bit) operating systems
·Mixed Fax-over-IP using T.38/G.711 and Fax-over-PSTN Cross Analysis
·Mixed Modem over IP (Using G.711) and Modem over PSTN Cross Analysis
·Time synchronization performed on PSTN and IP signals
·Cross analysis of two networks
·Provides bottom-up deep diagnosis of calls to solve interoperability issues
·Diagnoses physical and network layer problems
·Non-intrusive IP/TDM network diagnosis of high packet loss rate, high jitter, echo path, and echo canceller performance, to indicate possible locations of problems
About GL Communications Inc.,
Founded in 1986, GL Communications Inc. is a leading supplier of test, monitoring, and analysis equipment for TDM, Wireless, IP and VoIP networks. Unlike conventional test equipment, GL's test platforms provide visualization, capture, storage, and convenient features like portability, remotability, and scripting
GL Communications has over the years worked with major telecom equipment vendors (EVs) and system integrators to meet the testing requirements arising at various stages of telecommunications product development life cycle.
With its proven expertise of over 25 years, GL has a comprehensive suite of telecom testing solutions to verify and ensure 'quality and reliability' of variety of telecom networks including Wireless, and high-speed fiber optic lines.
GL's test tools range from simple PC-based software test tool to all-encompassing hardware units with futuristic expansion capabilities. GL's test solutions cover wide array of networks – 4G (LTE), 3G, IP, Ethernet, T1, T3, E1, E3, OC-3/STM-1, OC-12/STM-4, and traditional PSTN networks.
GL's tools are widely used by the telecommunication industry for conformance testing, automated stress/load testing, performance testing, remote accessibility, centralized web-based control and analysis, fault testing and analysis, and customized testing.