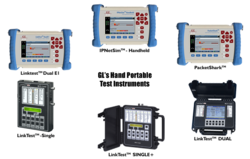 GL's handheld telecom test instruments are simple and easy to use and are designed to test almost any network interface including TDM (Analog, T1, E1, T3, and E3) and IP (Ethernet) networks. They are portable, battery operated, rechargeable, and light
Gaithersburg, Maryland (PRWEB) May 16, 2012
GL Communications Inc. announced today the release of their Handheld Portable Test Instruments for TDM and IP Networks.
Speaking to reporters, Mr. Vijay Kulkarni CEO of the company said, "GL's handheld telecom test instruments are simple and easy to use and are designed to test almost any network interface including TDM (Analog, T1, E1, T3, and E3) and IP (Ethernet) networks. They are portable, battery operated, rechargeable, and light."
He explained, "GL's PacketShark™ is a handheld unit that can tap Packet Networks, and capture Ethernet and IP packets at wire speed over optical or electrical interfaces up to 1 Gb/s. It selectively filters the captured packets based on specified criteria. Packets are transmitted through two ports with the packets that are traffic compliant with the filters are sent to a packet analyzer, such as GL's PacketScan™ for detailed packet analysis. Alternatively, the traffic can be even sent to a memory card (SD) and later analyzed offline.
GL's IPNetSim™ - Handheld is a handheld battery operated instrument that can simulate real-time IP and Carrier Ethernet network dynamics by means of hardware controlled packet delay, loss, jitter, errors, bandwidth constriction, congestion, and duplication. IPNetSim™ Handheld simulates network behavior of up to 1 Gbps rates with accuracy always better than 1ms. IPNetSim™ Handheld is equipped with a hardware based impairments generator, and dual GbE ports.
GL's LinkTest™ DualE1 is a handheld dual-port tester for E1 and data communications (V.11 / X.24, V.24/RS232, V.35, V.36/RS449, EIA-530, EIA-530A) interfaces. With the support of a large range of software options for E1 services and sub rate multiplexing system, this handheld unit provides a scalable test solution for E1 and data testing. It provides a large, clear screen with a full set of physical layer tests for E1 balanced and unbalanced circuits including BERT, VF, round trip delay and signal level."
Mr.Kulkarni further added, "Our other portable products: LinkTestTM Single, LinkTestTM Single+, and LinkTestTM Dual are sophisticated bit error rate testers in a compact, handheld package and can test a wide variety of communications facilities and equipments."
Some of the important Features of our Latest Handheld Portable Test Instruments:
PacketShark™:
·Ability to capture packets at any point in the Network
·Wirespeed, analysis with zero loss and zero delay - Equipped with a unique Zero Delay technology that ensures every packet goes through without delay (even if power is lost)
·Capture in the field and analyze in the office - Field storage of captured data using an external storage device (SD memory card) in PCAP format.
·Matching packets are copied and forwarded to the drop LAN port.
·Traffic and Signal Regeneration
IPNetSim™ Handheld:
·Shape and manage up to 16 independent flows of traffic with predefined QoS.
·Impairment generation on each flow including Latency, Packet Loss, Duplication, Delay, Jitter
·Impairments as per ITU-T Y.1541 standard
·Jumbo frames support up to 17 kBytes
·Traffic shaping and Traffic Policing
LinkTest™ DualE1:
·Multi-interface capability: V.24/RS232, V.11/X.24, V.35, V.36/RS449,
·Supports ITU-T G.711 encoding with A law, G.703 (2048/704kbit/s), G.703 co-directional
·ITU-T G. 821, G. 826, and M. 2100 performance analysis
·Supported Line codes – HDB3 (High-density bipolar with three zeroes), AMI (Alternate mark inversion)
·Rugged, handheld, battery operated, low-cost, and software upgradable design for field use
·Carry out generation and analysis of both framed signals (as per ITU-T G.704) and unframed tests
·Collection of call records from remote locations
About GL Communications Inc.,
Founded in 1986, GL Communications Inc. is a leading supplier of test, monitoring, and analysis equipment for TDM, Wireless, IP and VoIP networks. Unlike conventional test equipment, GL's test platforms provide visualization, capture, storage, and convenient features like portability, remotability, and scripting.
GL's TDM Analysis & Emulation line of products includes T1, E1, T3, E3, OC-3, OC-12, STM-1, STM-4, analog four-wire, and analog two-wire interface cards, external portable pods, and complete system solutions. Capabilities include voiceband traffic analysis and emulation across all traffic types (voice, digits, tones, fax, modem), all protocols (ISDN, SS7, GR-303, Frame Relay, HDLC, V5.X, ATM, GSM, GPRS, LTE, etc.), and with capacities up to thousands of channels. Our newest products provide astonishing capacity and capture capability up to and including gigabit speeds.
GL's VoIP and IP products generate / analyze thousands of calls and traffic simultaneously with traffic types such as frames, packets, voice files, digits, video, tones, noise, and fax. Almost all codecs are supported including G.711, G.729, AMR, EVRC-A,B,C, GSM, iSAC, and many more. Additional features include visual analysis, real-time listening, and recording. The product line also includes Ethernet / IP Testing capability that simulates and checks frame transport and throughput parameters of Ethernet and IP networks, including delay, errors and other impairments.
GL's Voice Quality Testing (VQT) product line complements all of GL's products. Using ITU-standard algorithms (PAMS, PSQM, and PESQ), GL's VQT provides a widely accepted solution for assessing voice quality in the telecom industry. Voice Quality Testing across multiple networks (T1, E1, T3, E3, OC-3, OC-12, VoIP, Wireless, and Landline) are all available.
GL's Wireless Products perform protocol analysis and voice quality assessment on GSM, CDMA, UMTS, and LTE networks. Connections can be made to any wireless phone with automated call control, GPS mapping and real-time signal measurements.
GL's Echo Canceller testing solutions provide the broadest range of simulation and analysis, including line and acoustic echo. GL's compliance testing per G.168. G.167, and P.340 across TDM, IP, VoIP and Wireless networks is widely accepted in the industry.
GL's wireless VQT solutions help assessing impairments to voice quality such as poor mobile phone quality, voice compression and decompression algorithms, delay, loss and gain in speech levels, noise, acoustic and landline echo, and other distortions are easily assessed and accurately measured.
GL's Handheld data testers can test a wide variety of communications facilities and equipment including T1, fractional T1, E1, fractional E1, T3 and E3 modems, multiplexers, CSU, DSUs, T1 CSUs, DTUs, NTUs and TIUs and more. The testers provide convenience, economy, and portability for almost any interface, including RS232, RS-422, RS-530, X.21, T1, E1, T3, E3, and many others.
GL's Network Surveillance and Monitoring products include Probes for TDM, IP, VoIP, ATM, and Wireless networks. An open standards based approach provides a scalable, feature rich, real-time access to network characteristics. Centralized or distributed access, efficient transport and database loading allow compatibility with 3rd party and standards based monitoring systems.