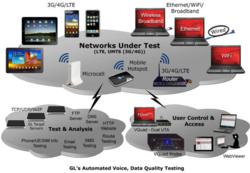 Using the VQuad™-NetTest package along with a standard PC internet connection, automated tests including TCP, UDP, HTTP, VoIP, Route, FTP, DNS and SMS are supported.
Gaithersburg, Maryland (PRWEB) June 13, 2013
GL Communications Inc., a leader in providing PC-based test, analysis and simulation products and consulting services to the worldwide telecommunications industry, announced today its enhanced Data Testing Solution 'NetTest' from PC and mobile devices.
Speaking to media persons, Mr. Vijay Kulkarni, CEO of the company said, " GL's VQuad™ solution is enhanced to support Data Testing using the NetTest application from PC and from mobile device (using Mobile Device Controller). Using the VQuad™-NetTest package along with a standard PC internet connection, automated tests including TCP, UDP, HTTP, VoIP, Route, FTP, DNS and SMS are supported. The PC internet connection can be wired Ethernet, WiFi, or even Broadband card (both LTE and 3G fully supported)."
He added, "VQuad™ can send commands (via the VQuad™ scripting) to the Mobile Device Controller for initiating NetTest on any connected Mobile Device. The Mobile Device will run the specified NetTests irrespective of whether the phone is on a voice call or not. All results are retrieved by the MDC and sent directly to the VQuad™."
Mr. Kulkarni further added, "Supported data tests include TCP, UDP (capacity), VoIP, Route, HTTP (web lookup), DNS, FTP and SMS. These tests can be fully automated using the VQuad™ scripting. While testing mobile devices, the VQuad™ remotely accesses the Android/Apple phone/tablet for initiating the test and retrieving the results. Both automated remote access along with manual testing is available on the mobile device using the Android/Apple downloadable apps."
He added, "GL's VQuad™ Scripting, portability for mobile drive testing, remote accessibility, analysis and centralized data retrieval are just a few attributes of GL's next generation Voice and Data Testing solution. The testing along with the result generation is fully automated and can be controlled from a central system or via a WEB Browser. All test results are automatically relayed to a Central Database where they are accessed via a simple WEB Browser/Viewer."
Important Features
·GL NetTest supports both Android & Apple devices and is Network independent including support for 3G, 4G, WiMax, LTE, and Advanced LTE.
·PC Based GL NetTest solution includes support for WiFi, Broadband Card (3G/4G/LTE), and wired Ethernet.
·Downloadable application available for both Android and Apple devices supporting manual and automated operation.
·NetTest supports TCP, UDP, HTTP, VoIP, FTP and DNS testing for both PC and Mobile Devices
·Automated SMS testing available for supported mobile devices. Additional Mobile Device tests coming soon.
·Fully automated using the VQuad™ scripting with results sent to WebViewer™ central system
·Simultaneous voice and data quality tests supporting 3G/4G networks
·Data Testing supports remotely deployed GL Target Server's for end-to-end testing
About GL Communications Inc.,
Founded in 1986, GL Communications Inc. is a leading supplier of test, monitoring, and analysis equipment for TDM, Wireless, IP and VoIP networks. Unlike conventional test equipment, GL's test platforms provide visualization, capture, storage, and convenient features like portability, remotability, and scripting
GL Communications has over the years worked with major telecom equipment vendors (EVs) and system integrators to meet the testing requirements arising at various stages of telecommunications product development life cycle.
With its proven expertise of over 25 years, GL has a comprehensive suite of telecom testing solutions to verify and ensure 'quality and reliability' of variety of telecom networks including Wireless, and high-speed fiber optic lines.
GL's test tools range from simple PC-based software test tool to all-encompassing hardware units with futuristic expansion capabilities. GL's test solutions cover wide array of networks – 4G (LTE), 3G, IP, Ethernet, T1, T3, E1, E3, OC-3/STM-1, OC-12/STM-4, and traditional PSTN networks.
GL's tools are widely used by the telecommunication industry for conformance testing, automated stress/load testing, performance testing, remote accessibility, centralized web-based control and analysis, fault testing and analysis, and customized testing.