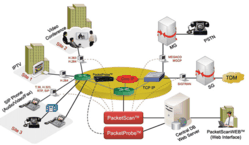 GL's network monitoring and diagnostic systems can be used for billing verification, remote protocol analysis, and traffic engineering. It can also provide key performance indicators, failure analysis, and call trace capability.
Gaithersburg, Maryland (PRWEB) May 28, 2013
GL Communications Inc. a leader in providing PC-based test, analysis and simulation products and consulting services to the worldwide telecommunications industry, announced today its enhanced Packet and VoIP Network Monitoring System.
Speaking to media persons, Mr. Jagdish Vadalia Senior Manager for Product Development of the Company said, "The Packet and VoIP network Monitoring System uses GL's Packet probe called "PacketScan™" and/ or Voice band Analyzer, PacketProbe™ to monitor packet flows in real-time within a VoIP network. All major VoIP protocols are supported including SIP, H.323, Megaco, SIGTRAN, RTP, and MGCP. A central database stores the real-time and historic data. The system also facilitates various views using a web interface known as 'PacketScanWeb™."
He explained, "PacketScan™ probe a feature-robust Windows® based software tool that captures and monitors live IP traffic in a non-intrusive fashion and forwards call detail records (CDRs) as well as statistics to a central database. PacketScan™ performs detailed analysis of voice band streams gathering QOS statistics such as MOS (Mean Opinion Score), total packet count, reordered, duplicate and missing packet counts, packet gap, jitter, and delay. In the VoIP world, it can monitor and measure SIP, H323, Megaco, MGCP, T.38 and video calls. In addition to quality metrics PacketScan™ also captures signaling information and sends that to the PacketScanWeb™ database as well.
PacketProbe™ is a lightweight Linux based tool that only operates on SIP or raw RTP and does not capture or transmit signaling information. A central database which will store the data collected by the probes and a WebServer which will provide real-time and historic views of the data through various "browser based" clients.
PacketScanWeb™ facilitates result display using a web interface. With this, one can view real-time data, navigate through records, filter the collected VoIP traffic summary, and graphically analyze the call volume, MOS, call completion, failed calls, completed calls, PDD, and so on through a simple web browser."
About GL Communications Inc.,
Founded in 1986, GL Communications Inc. is a leading supplier of test, monitoring, and analysis equipment for TDM, Wireless, IP and VoIP networks. Unlike conventional test equipment, GL's test platforms provide visualization, capture, storage, and convenient features like portability, remotability, and scripting
GL Communications has over the years worked with major telecom equipment vendors (EVs) and system integrators to meet the testing requirements arising at various stages of telecommunications product development life cycle.
With its proven expertise of over 25 years, GL has a comprehensive suite of telecom testing solutions to verify and ensure 'quality and reliability' of variety of telecom networks including Wireless, and high-speed fiber optic lines.
GL's test tools range from simple PC-based software test tool to all-encompassing hardware units with futuristic expansion capabilities. GL's test solutions cover wide array of networks – 4G (LTE), 3G, IP, Ethernet, T1, T3, E1, E3, OC-3/STM-1, OC-12/STM-4, and traditional PSTN networks.
GL's tools are widely used by the telecommunication industry for conformance testing, automated stress/load testing, performance testing, remote accessibility, centralized web-based control and analysis, fault testing and analysis, and customized testing.