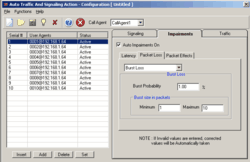 Automatic generation of impairments over the RTP for any (or all) established calls is possible using PacketGen™ and RTP ToolBox™ software.
Gaithersburg, Maryland (PRWEB) May 09, 2013
GL Communications Inc., a leader in providing PC-based test, analysis and simulation products and consulting services to the worldwide telecommunications industry, announced today RTP Traffic impairments for IP Systems with its Packetgen™ and RTP ToolBox™ software.
Speaking to media persons, Mr. Karthik Ramalingam, Senior Manager for product development of the company said, "Automatic generation of impairments over the RTP for any (or all) established calls is possible using PacketGen™ and RTP ToolBox™ software.The impairments that can be generated include: Latency (Fixed, Uniform, Nominal) , Packet loss (Periodic, Random, Burst (burst probability and burst size)) and Packet Effects (Out of order, Duplicate Packets)."
He added, "Users can manually introduce impairments and transmit on the RTP sessions. This includes introducing fixed latency, uniform/normal distributed latency, periodic/random/burst packet loss, out-of-order packets, and duplicate packets. Users may also apply delay and attenuate to the incoming data on a scanned session."
Mr. Ramalingam further added, "Users can create a script that defines the RTP behavior. Scripting provides the users a greater flexibility to combine Traffic actions with simple programmed scripts. On call establishment, this script can be loaded and executed. This option will also allow users to run the scripts automatically on the scanned sessions.
Scripts can also be run on multiple sessions at the same time and its progress can be viewed in the Script Contents pane by highlighting the currently executing command of the script. For enhanced testing, users can also write IVR (Interactive Voice Response) scripts."
About GL Communications Inc.,
Founded in 1986, GL Communications Inc. is a leading supplier of test, monitoring, and analysis equipment for TDM, Wireless, IP and VoIP networks. Unlike conventional test equipment, GL's test platforms provide visualization, capture, storage, and convenient features like portability, remotability, and scripting
GL Communications has over the years worked with major telecom equipment vendors (EVs) and system integrators to meet the testing requirements arising at various stages of telecommunications product development life cycle.
With its proven expertise of over 25 years, GL has a comprehensive suite of telecom testing solutions to verify and ensure 'quality and reliability' of variety of telecom networks including Wireless and high-speed fiber optic lines.
GL's test tools range from simple PC-based software test tool to all-encompassing hardware units with futuristic expansion capabilities. GL's test solutions cover wide array of networks – 4G (LTE), 3G, IP, Ethernet, T1, T3, E1, E3, OC-3/STM-1, OC-12/STM-4, and traditional PSTN networks.
GL's tools are widely used by the telecommunication industry for conformance testing, automated stress/load testing, performance testing, remote accessibility, centralized web-based control and analysis, fault testing and analysis, and customized testing.